The Hindu seems to have invested heavily into a BJP defeat in the 2019 elections. What else explains their persistence with these lies on Rafale?
After penning down a rebuttal to N.Ram of The Hindu, it stuck to me that the reader might assume that this attack by The Hindu is an isolated incident to gather some eyeballs. It is not, and here are instances from recent past that explain a consistency in The Hindu's strategy to further the same lies again and again.
Let's begin at September 2018.
The Hindu wrote an editorial on September 22, 2018 titled "The Plane Truth". They begin with a startling claim:
"… the clarificatory statements issued — by the Centre, the French Foreign Ministry and Dassault — did little to clearly address what Mr. Hollande had said.
But what did Mr. Hollande, the former French President say? The editorial makes life easier by telling us what Hollande allegedly said – "…it was India that suggested the Anil Ambani-owned Reliance Defence Ltd. as the offset partner for the deal."
Almost immediately, all concerned parties have issued separate statements. Dassault saying that Indian government had no role. Indian government reiterating that they had no role in Dassault choosing any partner. French government saying that this was a government to government deal – every one of them has reiterated oft stated positions. Leave all these – even Mr. Hollande has told an agency AFP that he isn't aware of any pressure on Dassault.
Amidst all this – why does The Hindu think that the clarificatory statements did "little to clearly address what Mr. Hollande had said"? They go on to repeat the question yet again:
"But all this merely begs the question: did the Centre suggest a partnership with Reliance Defence as Mr. Hollande said?"
I am still trying to understand the question! The Centre has said NO. Why does it "beg" the same question again and again? Is The Hindu expecting an answer they want to hear, and will not accept any other answer? Because they continue their tirade.
"Also, if so, what form did it take? A firm nudge in that direction? A quiet whisper in someone's ear?"
If so? The answer is already a NO. Language such as nudge and whisper may make for good dramatic reading but is no substitute to hide the glaring agenda peddling happening in the garb of news! The tirade doesn't stop
"Who suggested to who? And when?"
When the clarification reads an emphatic NO, why this constant barrage of irrelevant questions? Why doesn't The Hindu don the role of investigative agencies and grill Mr. Hollande on his alleged claim?
Well, what would one investigate when one claims that there is no financial trail that smells of a scam exists for Rafale? Snipper from the editorial itself: "the corruption allegations have persisted in the absence — unlike in the case of some other defence deals such as Bofors — of a financial trail".
The editorial amusingly ends with a suggestion that "private briefings to Opposition leaders and the disclosure of all information that doesn't jeopardize national security or impact the aircrafts' operational capability are good starting points". Now, did The Hindu really think that the likes of Rahul Gandhi will stop peddling lies even after being briefed? I have been wondering how such ideas come up at The Hindu! Let's park this here for now, and move on to November 2018.
The report and graphic of November 2018.
While submitting an affidavit to the Supreme Court for the frivolous case filed by Prashant Bhushan and his ilk, the central government had mentioned that the "French govt. didn't guarantee Rafale deal".
The Hindu viewed this as a "change of stance" and told us that the government has earlier mentioned that the French government stood as a guarantee. Not only this, The Hindu added 5 more points to this bizarre claim and published a front page graphic on November 15, 2018.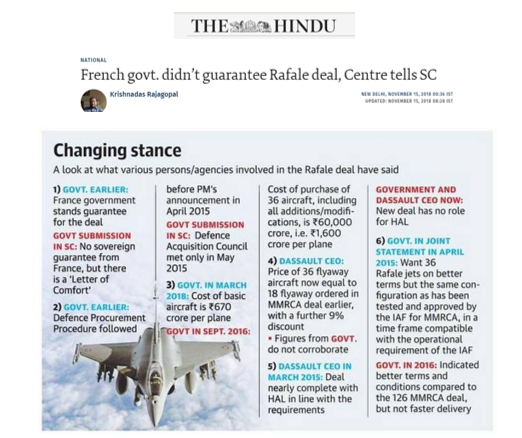 Point number 1: No amount of google search has revealed any official statement at any official forum by the central government. The Hindu's article doesn't even mention when the government made a statement like this. It uses a vague time frame "earlier" and doesn't give an exact date for this alleged statement. This looks more like a dictation from Prashant Bhushan!
Point number 2: Yet another bizarre claim that government said something "earlier".
Point number 3: The mother of all bizarre claims! What stance has changed in March 2018 from September 2016?! The two points mentioned here are for barebone aircraft and a fully equipped aircraft, so how exactly is this a change of stance?!
Point number 4: Corroborated by government in and out of Parliament. Not government's fault if The Hindu doesn't bother to read the corroborations!
Point number 5: No deal was signed with HAL to produce the aircraft. Negotiations reached a standstill in 2014. The deal in 2015 was for 36 aircraft in flyaway condition + 30,000 crore investment by Dassault in offset companies in India. A "change of stance" can be quantified if an earlier signed deal mentioned HAL as a producer of the aircraft. When no deal existed, how can this be termed as a change of stance?!
Point number 6: "No faster delivery"? Really?! The deal was signed in 2016. The first Jet is arriving in 2019. That the first jet will arrive in 2019 was reported by The Hindu in November 2017 only! How much faster does The Hindu want it to get? And yet again, there is no mention of any official statement related to "faster delivery" or the lack of it, in the report by The Hindu.
It is therefore of little wonder that this story also didn't get any traction. After all, why would anyone want to acknowledge such vague and lazy journalism?
Moving on to January 2019
We had pointed out how The Hindu front paged Rahul Gandhi's vague accusations but the government's official response was relegated to the 10th page of the paper. And in an attempt to gain more eyeballs, The Hindu used their most potent weapon, i.e., their Chairman, N.Ram! N. Ram rehashed all these wild theories, plagiarized from other hard working journalists, used lovely English language, conducted complicated mathematical operations such and addition and division, and wrote an absolutely fascinating, long and lazy article, in which he himself demolished his own arguments!
The Hindu has been stuck in a cobweb of its own hypocrisy. From Sept 2018 to Jan 2019, by their own admission, they haven't been able to find a single financial trial that whiffs of a scam. And yet, they have hidden as much information as possible from their (gullible) readers. Repeating the same lies once every two months might garner eyeballs, but will not gather any credibility. It looks like such attacks will increase in the days to come. The Hindu seems to have invested heavily into a BJP defeat in the 2019 elections. What else explains their persistence with these lies?
Disclaimer: The opinions expressed within this article are the personal opinions of the author. MyIndMakers is not responsible for the accuracy, completeness, suitability, or validity of any information on this article. All information is provided on an as-is basis. The information, facts or opinions appearing in the article do not reflect the views of MyindMakers and it does not assume any responsibility or liability for the same.
Comments