Rafale is NOT a Scam. There is plenty of evidence that suggests that, but Rahul Gandhi is on his own tangent.
This piece is in the reiteration of the previous post where this author decoded the India-France G2G Rafale Deal, detailing "Why It Is Not A SCAM."
But the opposition parties, led by Congress President Rahul Gandhi and their vile media cronies are continuously and severely indulging in mudslinging and are trying to blame the government for a "contrived Rafale-Scam." The method is the same which Rahul Gandhi seems to be gaining expertise in. i.e., lies, falsehood, lies, falsehood and some more lies and some more falsehood.
He plays this to his gallery of people with prejudice and it does not seem to be settling anytime soon.
THE LATEST:
A day before, an article with an explosive allegation was published in MediaPart, a French Media, quoting/misquoting the former French President François Hollande which contradicted the Indian government.
According to him, Anil Ambani (Reliance Defence) was not chosen by Dassault: "We didn't have a choice. "We took the "partner" (Reliance Defence) that was given to us," the ex-President was quoted. Link: En Inde, François Hollande s'invite dans l'affaire des avions Rafale.
The most disturbing part of this entire new development is that Rahul Gandhi could predict it 3 weeks before. This is what he tweeted on 30th August.
Globalised corruption. This #Rafale aircraft really does fly far and fast! It's also going to drop some big bunker buster bombs in the next couple of weeks.
Globalised corruption. This #Rafale aircraft really does fly far and fast! It's also going to drop some big bunker buster bombs in the next couple of weeks.

Modi Ji please tell Anil, there is a big problem in France. https://t.co/tvL7HMBPFN

— Rahul Gandhi (@RahulGandhi) August 31, 2018
Without any concrete evidence, it cannot be said that it was orchestrated. But there is a perfect coincidence in his prediction and Mr. Hollande's highly questionable statement that followed. It was definitely a VERY SERIOUS charge.
"IF PROVEN, that GoI pushed for Reliance, then it is a HUGE BLOW to BJP." That's how HAWA is created and an LIE is propagated.
Hence, more clarity was needed, both from the Indian and the French governments to prove the allegations otherwise.
Within hours came in a clarification rejecting the charge. This tells the seriousness of the allegation, and the potential damage it can cause. The Defense Spokesperson clarified in a tweet:
The report referring to fmr French president Mr. Hollande's statement that GOI insisted upon a particular firm as offset partner for the Dassault Aviation in Rafale is being verified.
It is reiterated that neither GoI nor French Govt had any say in the commercial decision.

— Defence Spokesperson (@SpokespersonMoD) September 21, 2018
In no time, the French Govt. released a statement on Rafale controversy saying French companies have full freedom to choose their Indian Offset Partners. Link: Statement by the Spokesperson of the Ministry of Europe and Foreign Affairs.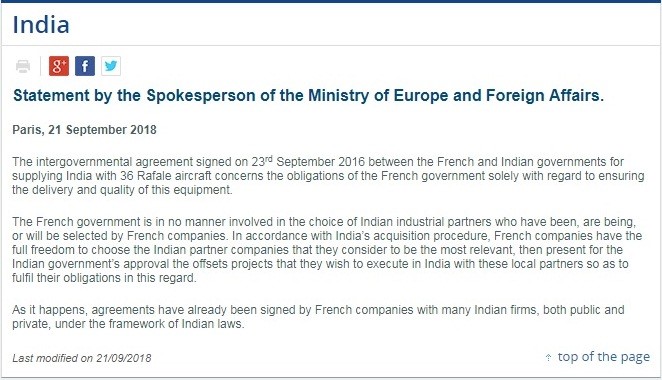 Immediately, Dassault Aviation comes up with its own statement clearing the air, setting the record straight.
''RELIANCE WAS DASSULT'S CHOICE" says Dassault.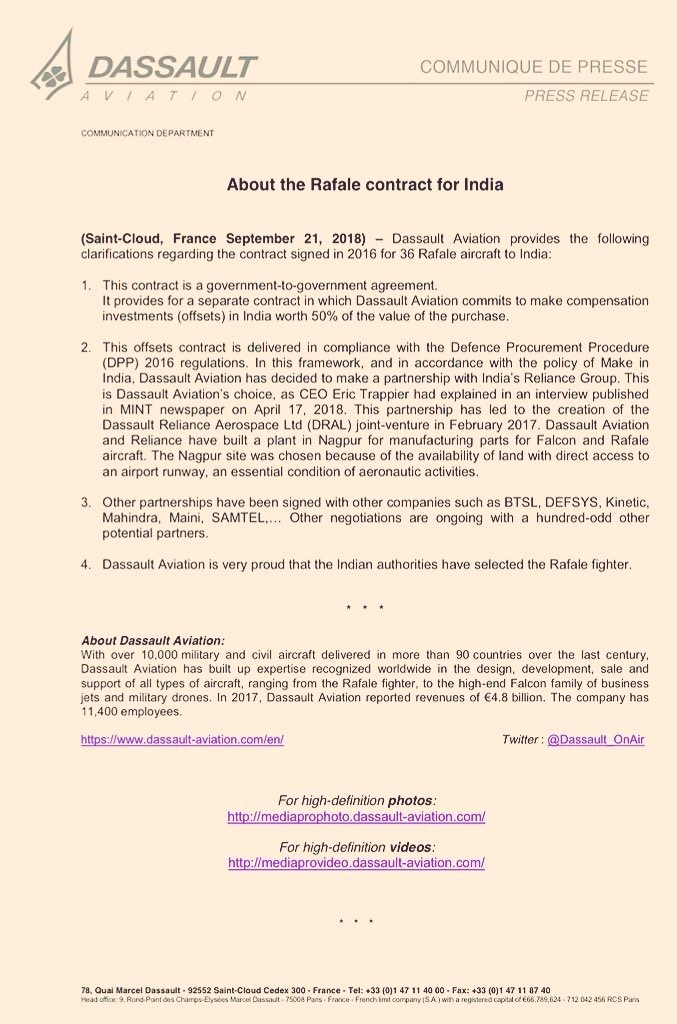 Good. Matter ends. A two minutes silence.
No, wait.
The very next day Mr. Hollande goes to a conference in Montreal, and on being asked: "Did they (Indian Govt.) ask you to include Reliance Defense's name?" He says, "No, I am not aware, ask Dassault." Then he says, "The Partners chose themselves."
WHOA! Complete 'U-turn' in less than 24 hours. This creates more doubts on his first inaccurate statement being in the rhythm of Mr. Gandhi's prediction of bunker buster bombs coming from France.
The French side of the scandal is Mr. Hollande's alleged conflict of interest. The journalist from Mediapart who interviewed him said, they were investigating that aspect of his connection with his actress amour Julie Gayet whose film was financed, coincidentally, by Anil Ambani, and Hollande is being accused of corruption.
Most likely, while trying to defend himself, he passed a remark saying, "he did not put any pressure, and someone else did it. We were left with no choice." If the decision was of Indian Government, why did Anil Ambani produce a movie for Hollande's girl-friend? Wasn't Hollande protecting himself? Clearly, he was.
Those who claim it otherwise must provide documentary evidence that GOI insisted upon a particular firm.
What seems more plausible is that Hollande got Dassault to give a deal to Reliance in exchange for a deal for his partner.
In 2012 the UPA had selected the same Rafale from Dassault. Curiously, at that stage, Dassault had also picked Reliance Industries as its defense partner, and RIL led by Mukesh Ambani had signed a MoU with Dassault expecting a deal of 126 aircraft. Does this point to any cronyism? If yes, were Sonia Gandhi and Rahul Gandhi favoring that deal? Was it a scandal? We don't know. Perhaps, not.
Later, in 2014 when the deal was re-negotiated, RIL was no more in defense, but the other Reliance (Defence) led by Anil Ambani showed their interest including many other companies.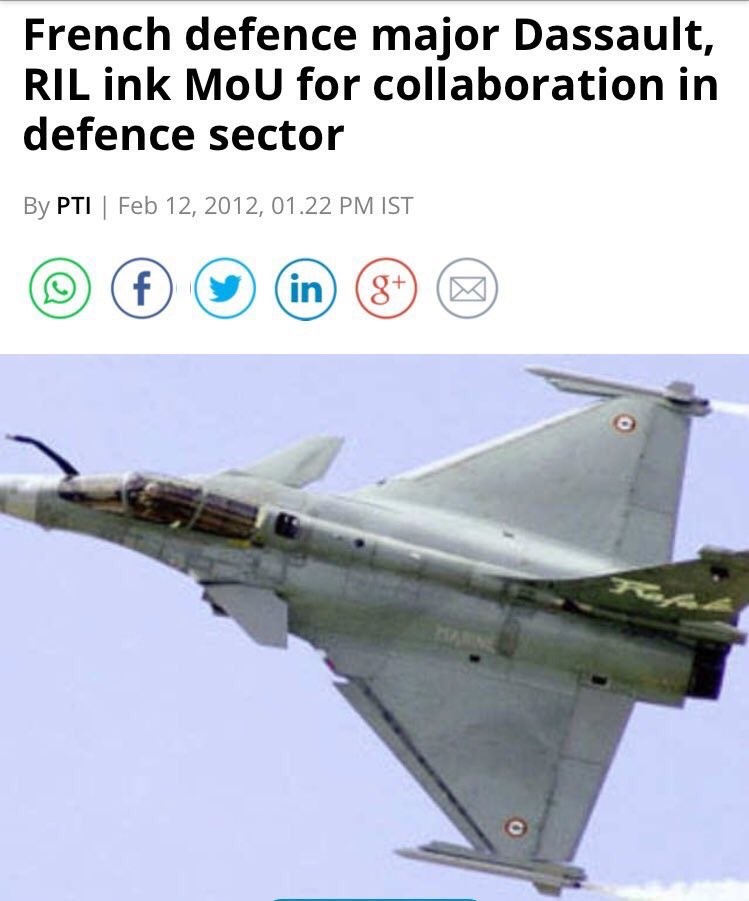 The reality is, that Congress Party and its strategists know that most of the people who carry this falsehood of a Rafale-Scam and spread it via social media have no clue about the Offset clause.
The Contract:
The Government of India purchase as is, where is, fully built up, fully weaponized aircraft, from Dassault, in a Government to Government agreement, entered between the Government of India and the Government of France. The aircraft are to be entirely manufactured and weaponized in France and supplied to India in ready to use condition. Where is the question of Dassault having a "Partner" in India?
After the purchase is made, under the 2005 policy, of Government of India, the offset contract comes into the picture as an integral part of the contract. The original policy that was framed by the UPA Govt. was that the OEM (Original manufacturer) will invest 30% of the contract price back in India by way of purchases (product and services, the defense as well as non-defense items). This was to push for investment in India that will benefit the indigenous manufacture.
In this contract, the Government of India negotiated and raised the offset to 50% to the benefit of India.
Once the supplies are made, Dassault will start its purchases from Indian Manufacturers. Who do they purchase from, is up to them to decide? Dassault has appointed dozen odd offset providers/suppliers in India, both private as well as public sector undertakings. Merely because Dassault also chooses Reliance Defense to be one of the offset suppliers, how does that become a scam?
Only Rahul Gandhi knows. This is his latest tweet on his imaginary Rafale-Scam.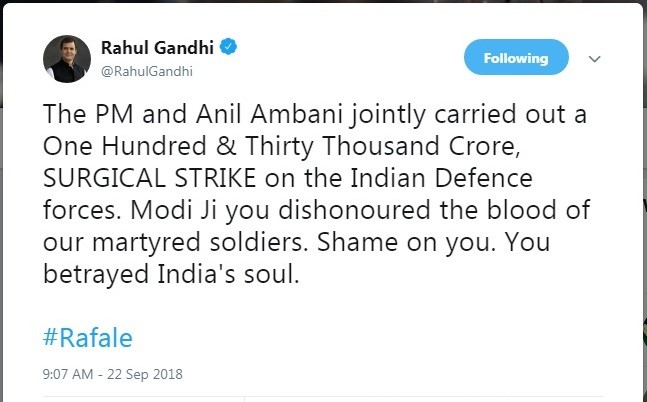 Ignore the derogatory language and look at the numbers. "ONE HUNDRED THIRTY THOUSAND CRORES."
Really? When the total contract value is 58,000 Crores, how come the scam becomes 130,000 Crores? Less talked about this man-boy is better.
What bothers me is the thought that Congress party led by Mr. Rahul Gandhi, who by repeatedly perpetrating the misleading and irresponsible statements, might be wishing that the Rafale-Deal gets scrapped leading to severe damage to the defense preparedness and national security.
If that is the idea, Rahul Gandhi is a dangerous man and he is indulged in dangerous politics. I just hope that is not the case.
Yet, at a time when India is moving ahead in various fields, we are force fed the politics of nefarious campaigns based on unfounded allegations and imaginary mud-slinging. Disgraceful.
Disclaimer: The opinions expressed within this article are the personal opinions of the author. MyIndMakers is not responsible for the accuracy, completeness, suitability, or validity of any information on this article. All information is provided on an as-is basis. The information, facts or opinions appearing in the article do not reflect the views of MyindMakers and it does not assume any responsibility or liability for the same.
Comments