Indian Immigrants in USA Continue to Face More Institutionalized Racism
As a Silicon Valley executive who is also "pro-diversity" as per her bio, openly abused Indians on twitter, we heard nothing but deafening silence from the left-wing groups in the USA. She was abusing Indians in USA for not agreeing with her political views and instead supporting a smaller government and lower taxes, a traditional and classic conservative American value which the American left has come to hate. Her next suggestion was to use taxes as a weapon and to destroy these people by taxing them.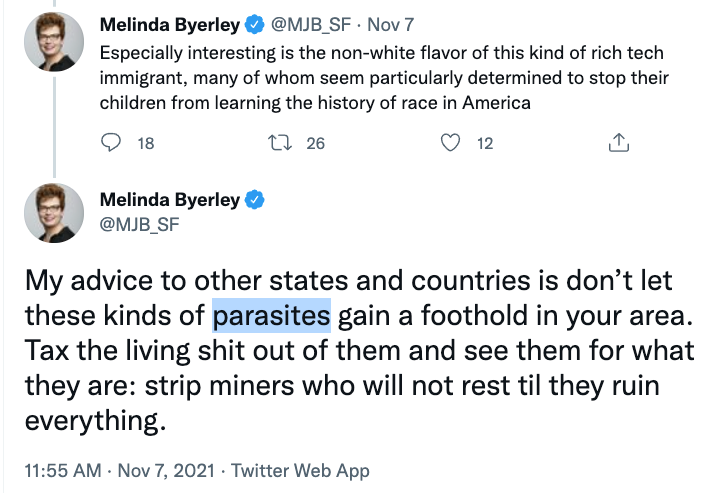 Once she realized she had crossed the line and it would be hard to defend she locked her account. However, the damage had been done. Even Ro Khanna took notice of this bigotry and called it out.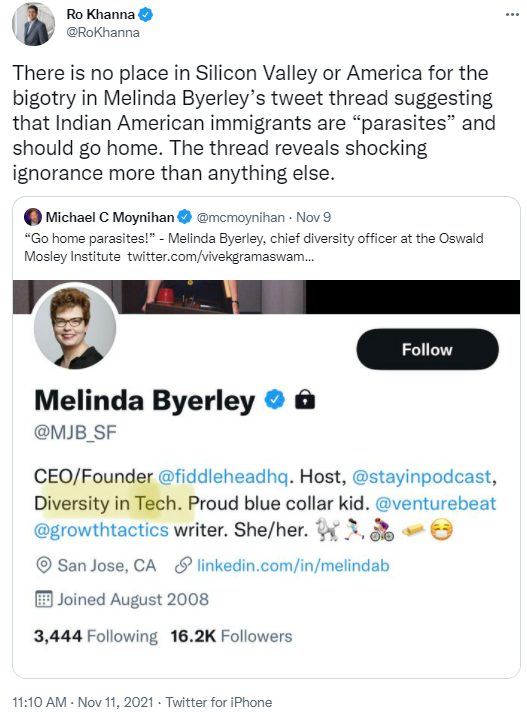 She also brought in the common talking point of white supremacists and American leftists against Indians. "Caste System". The American political spectrum should totally make up their mind as to whether the caste system is "pro-less government" or "pro-more government". Right now, the answer is "both" as long as it helps demeaning Indian Hindus in USA.
It must be noted that hatred of Indians is not a partisan thing in the USA but it has bipartisan support. Donald Trump waged a war on Indian immigrants. Since he could not achieve much legally, he decided to simply create so much red tape that the entire immigration system went into a complete tailspin. Processing delays under Trump went into years and mountains of paperwork piled up at every step. The GOP, which pretends to be the party of law and order, oversaw this complete breakdown of law or any pretence of order at USCIS (United States Citizenship and Immigration Services) and the Department of State. COVID made the problem even more worse as if a drunk was given an automatic machine gun with infinite ammo.
What surprised everyone however was that Biden, despite his pro-immigration rhetoric actually doubled down on all Trump policies that would hurt legal immigrants. USCIS delays have gone even further under Biden and apparently the Texas Service center of USCIS is not working at all. H4EAD, (Employment Authorisation for H4 Dependent spouses) a legal right of Indian immigrants most of which are women is illegally denied to them by adding processing delays that span into years and by the time EAD arrives it is already near expiry. As past data shows, it takes merely 12 minutes for the agent to approve it.
The Department of State has kept the Indian consulate closed even though Covid rates in India are lowest and vaccination is very high. They have further slowed down approval of drop box paperwork which does not even need a person coming to the consulate.
A lot of these problems eventually boil down to the racism in US immigration laws. US immigration law historically had explicitly banned Indians coming to the USA and getting naturalized. Such blatant racism was eventually out of fashion and Chinese Exclusion Act (which applied to Indians as well) was repealed but it was sneaked into INA act as "per country caps" which continue to hurt Indians and Chinese as only 7% of green cards at maximum can go to any one country. This was explicitly designed so that Europe with its smaller nation states would get more green cards than Asian countries like India or China.
But even the rest of the immigration system such as H1B, L1, EB, F1 Students etc. was designed for western and easter European immigrants. However, as China and India grew rapidly, the flow of Indian and Chinese immigrants increased faster than Congress could act. Now it is hard for both parties to stop this without sounding explicitly racist.
It is why USCIS continues to remain just as slow and inefficient under Biden as it remained under Trump and there is little hope that it will change.
What they cannot achieve overtly, they are achieving covertly.
Political left's hatred for Indian immigrants is deep but they have been masking it pretty well but as the Silicon Valley executive showed, it is now exposed and this will force Indian Americans to evaluate their political leanings. As these people get to the helm of power, we will see more of this hatred directed towards Indian-Immigrants.
Image source: The WaPo
Disclaimer: The opinions expressed within this article are the personal opinions of the author. MyIndMakers is not responsible for the accuracy, completeness, suitability, or validity of any information on this article. All information is provided on an as-is basis. The information, facts or opinions appearing in the article do not reflect the views of MyindMakers and it does not assume any responsibility or liability for the same.
Comments