Is India serious about retrieving its stolen Antiques?
The press release below is the submission by India's Minister of Culture to Parliament this week. A cursory glance and basic research throw up glaring errors and omissions in the submission show the level of preparedness and competency in the current system to combat the illicit trade in Indian Antiquities.
Recovery of Stolen Antiquities from India
Archaeological Survey of India (ASI) is making all efforts to recover stolen antiquities from abroad. Till date the Archaeological Survey of India has recovered eighteen numbers of antiquities from various countries. Details are given in Table-1 below:-
http://pib.nic.in/newsite/PrintRelease.aspx?relid=141125
LIST OF RETRIEVAL OF ANTIQUITIES FROM FOREIGN COUNTRIES
Sl.

No

Description of object

Provenance

Country from which retrieved

Date/

year of Retrieval

Means of Retrieval

Present location

1.

Sawn stucco Head

Nalanda, Bihar

U.K. and France

1976

Voluntarily returned by British Museum, London and Madam Krishna Robound of France

Patna Circle

2.

Nataraja of Chola period

Sivapuram Tamil Nadu

U.S.A.

1986

Through Court Case in U.K and U.S.A.

Tamil Nadu Government

3.

Terracotta Yakashi of Tamluk

West Bengal

U.K.

1986

Court case was instituted in London but out of Court settlement was reached for retrieval

CAC, Purana Qila, N. Delhi

4.

Nataraja of Chola period

Tiruvilakkadi, Tamil Nadu

U.S.A

1986

Kimbell Art Museum returned the idol after Indemnity agreement was signed by the GOI on 12.8.1985

5.

Nataraja of Chola period

Pathur, Tamil Nadu

U.K.

1991

Retrieved through Court case instituted in London High Court and appeal in Royal Court of Justice at London.

Tamil Nadu Government

6.

Terracotta figures from Bhitargaon

Utter Pradesh

U.S.A

1991

The figure was returned voluntarily by Los Angeles Country Museum.

CAC, Purana Qila, N. Delhi

7.

Amin pillars

Amin, Haryana

U.K

1979-80

Voluntarily returned

National Museum, New Delhi

8.

Image of Buddha

Bodhgaya, Bihar

U.S.A

1999

Voluntarily returned without seeking any monitory compensation by Metropolitan Museum of Art, New York

CAC, Purana Qila, N. Delhi

9.

Sculpture of Krishnajanma

Dhubela Museum Chattarpur (M.P.)

U.S.A

1999

Returned through the mediation of Consulate General of India, New York.

Dhubela Museum, Chattarpur (M.P)

10.

Paintings

i) Chandigarh Museum

ii) Chandigarh Museum

U.S.A

U.S.A

10-1-1990

4-3-1979

Voluntarily returned

Voluntarily returned

Chandigarh Museum

Chandigarh Museum

11.

Image of Lakulisa

Jageswar

U.S.A

2000

Voluntarily returned after negotiations by the Consulate General of India, Chichgo with Mrs. Marilynn Alsdorf.

CAC, Purana Qila, N. Delhi

12.

Decorative Wooden panels (7 nos.)

Rajasthan

Holand

2001

Voluntarily returned

CAC, Purana Qila, N. Delhi

13.

Yogini Vrishanana

----

Paris

2013

Return on initiative of the then Minister of Culture

National Museum

14.

Nataraja

Tamil Nadu

Australia

2014

Voluntarily returned

Under the custody of Idol Wing Tamil Nadu

15.

Ardhanariswara

Tamil Nadu

Australia

2014

Voluntarily returned

Under the custody Idol Wing, Tamil Nadu

16.

Parrot Lady

Madhya Pradesh

Canada

2015

Voluntarily returned

CAC, Purana Qila, N. Delhi

17.

Mahisamardini

J&K

Germany

2015

Voluntarily returned

CAC, Purana Qila, N. Delhi

18.

Uma Parameshwari

Tamil Nadu

Singapore

2015

Voluntarily returned

CAC, Purana Qila, New Delhi
Omission: Consdiering that India has for long been scant and lax in its policy to aggressively pursue heritag crimes resulting in the few successes as was evidenced by the CAG report of 2013 – we expected this submission, being response to show India's success at recovering stolen cultural property at the highest forum in the country would be more through. But its shoddyness is evidenced by glaring omissions of even recent returns.
In January of 2014 hot on the heels of the Kobragade episode, Homeland Security in America returned 3 artefacts which were traced with the help of one of India Pride Project's key researchers and one of India's unheralded monument's man Dr Kirit Mankodi who had diligently followed up on the theft of the famed sculptures from Atru in Rajasthan and has been running his site http://plunderedpast.in/about.html ( basically doing what the ASI must be doing) and assiting internstional law enfrocement is securing our stolen treasures.
A grand ceremony was held and newspapers extensively covered the handover. Sadly, the returns did not even feature in the submission in Parliament.
http://www.thehindu.com/news/international/world/us-returns-idols-stolen-from-india/article5577461.ece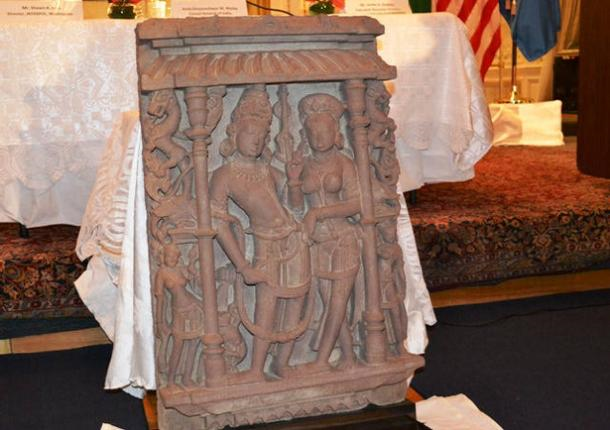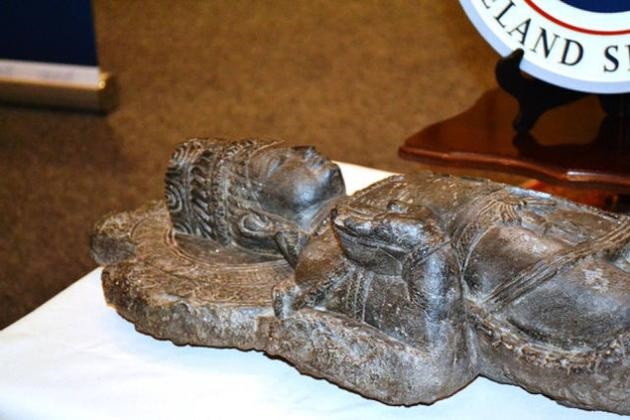 Omission: Similar is the case of the Varaha stolen from the temple in Mandsour, Madhya Pradesh when the Immigrations and Customs authority of America held a ceremony signalling the handing over to Indian Government through Neelam Deo, Consul-General of India in April of 2006.
http://www.thehindu.com/todays-paper/tp-international/stolen-vishnu-idol-sent-back-to-india/article3149427.ece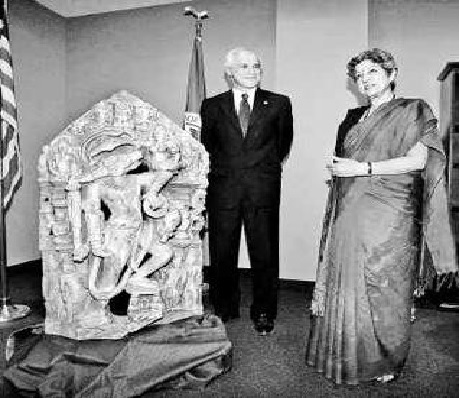 Inaccuracy: Object no: 2 on the list is the famed return of the Sivapuram Nataraja is listed as "Through Court Case in U.K and U.S.A.". Though a case was initiated against the Norton Simon Museum the actual restitution was basing of an Out of Court Settlement which amongst other things allowed the Bronze Nataraja to be on loan for 10 years in a public museum in America and surprisingly, In addition, the Foundation was allowed, for a one-year period, to acquire any other Indian art object, found outside of India, with full immunity from suit by the Indian Government. Our research has also found glaring holes in this case – which is still open in Tamil Nadu's police records as 5 more bronzes are still listed as missing. One of these has been actually traced back to the Norton Simon Museum and is still on open display there. Our full research paper can be accessed here
https://www.academia.edu/17506520/Sivapuram_Bronzes_New_evidences_to_solve_the_still_open_theft_of_1956
Incomplete : Object number 4 – the famed Thiruvilakudy Nataraja was not a singular seizure as evidenced in this detailed coverage
The state Government discovered this when they first informed Interpol and Scotland Yard in London about the thefts. Scotland Yard has a special antiquities wing, which was intimated of the numerous missing idols which were known to have been transported to England and neighbouring countries. Meanwhile, Nair and Ramakrishnan were given a carte blanche to travel round the world freely in search of the idols.
Three of the eight missing idols from Sembanarkoil, two of the goddess Valli and another of Deivayanai were the first to be found. With the assistance of Scotland Yard an Indian dealer of handicrafts and artefacts in London was nabbed and about 240 Indian icons were seized from him.
Muthiah Gurkkal, the priest of the Nalthunai Easwarar temple in Sembanarkoil, was specially flown to London to identify the missing idols. He said: "I could recognise the idols just as a mother could recognise her missing children when they are traced and brought back to her." But the idols are yet to be returned to India, because the handicraft dealer has got a stay order on the transfer of the idols to India from the Royal Court of Justice, London. The case is still pending.
Meanwhile, by an incredible stroke of luck, Nair was able to spot an advertisement of a Nataraja idol for sale in an old issue of an art magazine in London. The photograph of the idol advertised tallied with that of Thiruvilakudy, and the advertisement was issued by an "Everest Art Gallery" in London.
A series of discreet enquiries, and painstaking visits to several museums in UK and US and the Thiruvilakudy idol was finally traced to the Kimbell Art Museum in Fort Worth, Dallas in Texas. The idol is going to be returned to India, though Kimbell bought the idol for Rs 60 lakh. Simultaneously, Scotland Yard tried to probe the antecedents of the so-called Everest Art Gallery, which had been wound up in 1980. http://indiatoday.intoday.in/story/tamil-nadu-government-works-on-special-preventive-law-to-curb-temple-thefts/1/360716.html
A raid on the house of L.P. Choraria, one of the former owners of the defunct gallery yielded a rich catch of 41 items of stolen Indian artefacts, including a Nataraja idol stolen from Thiruneelakudy in Thanjavur in 1977, and Nataraja, Chandrasekarar and Amman idols stolen around the same time from Vikramangalam in Tiruchi. http://indiatoday.intoday.in/story/tamil-nadu-government-works-on-special-preventive-law-to-curb-temple-thefts/1/360716.html
Where are these artifacts and what is their present status?
Inaccuracy: Object numbers 14 and 15 – the Sripuranthan Nataraja and the Vriddachalam Nataraja are again listed as voluntarily returned. This is grossly incorrect as the Indian Government officially sent out Letter rogatories in March 26th 2014 with evidences sourced by the India Pride Project and the Government of Australia accepted the claim by not refuting it till April 30th – ie within 30 days. That the then Australian Prime Minister personally brought them over and handed over to our Prime Minister is incidental.
http://www.thehindu.com/news/international/world/canberra-gallery-gives-up-claim-on-stolen-idol/article5960617.ece
The Attorney General's Department said on Tuesday the NGA had not contested the March 26 notice, thus forfeiting the idol to the Australian government.
Both the NGA and the Sydney gallery removed the idols from public display immediately after receiving the notices. The idols were later seized by the Australian authorities from the galleries.
After the expiry of the 30-day deadline, "the objects have both automatically forfeited to the Australian government, and a final decision will be made in due course, in line with the requirements" of the law, an official said.
http://swarajyamag.com/culture/india-has-abandoned-its-gods
There is a whole list of objects that await return to India from Australia!
Inaccuracy: Object number 17 – The Tengpura Durga's return has again been listed as voluntarily returned. The entire saga on how and why it was returned after a protracted effort is described here
http://swarajyamag.com/culture/nobody-seems-to-be-bothered-about-our-heritage
Inaccuracy: Object number 18 – The ACM Singapore UMA. Once again listed as voluntarily returned. The Uma's saga is described here
http://www.arre.co.in/culture/my-love-affair-with-uma-parmeshwari/
There have been real shocking cases wherein major art robbers have been let go with the most recent acquittal of notorious smuggler Vaman Ghiya – hero of a BBC's sting video and a book – Peter Watson's Sotheby's The inside Story and the Subhash Kapoor case – where the loot smuggled out of India has been documented to be over 10,000 just between the 2 of them. http://swarajyamag.com/culture/operation-hidden-idol-the-struggle-to-bring-back-indian-antiquities
The apparent feeble attempts by the ASI to even put up a proper paper in Parliament shows the urgent need to have this taken out of their hands and placed into a specific task force who will be in a better position to go after our stolen cultural treasures and offer proper answers to the Indian Public - which is one of the reasons why #BringOurGodsHome is trending on Indian Social Media now.
Disclaimer: The opinions expressed within this article are the personal opinions of the author. MyIndMakers is not responsible for the accuracy, completeness, suitability, or validity of any information on this article. All information is provided on an as-is basis. The information, facts or opinions appearing in the article do not reflect the views of MyindMakers and it does not assume any responsibility or liability for the same
Comments