Chandrababu Naidu's dishonest campaign on Amaravati funds stands exposed
After the unsavory partition of the state of Andhra Pradesh, Chandrababu Naidu announced the building of a people's capital. He asked people from all villages to collect water and soil from their village and send it to Amaravati. He proposed that all the water and soil will be mixed and a tall memorial will be built.
Prime Minister Narendra Modi, who was the Chief Guest at the foundation stone laying ceremony of the capital city Amaravati brought water from Yamuna and soil from Parliament House – a symbolic gesture to state that the country is with the AP government in their endeavor of building a world class peoples capital city.
Narendra Modi's support didn't end with just the symbolic act. The central government has released 1500 crores for the creation of essential infrastructure in Amaravati. They also released 1000 crores for creation of essential infrastructure in the capital region. These funds were released in the year 2017 itself. Below is an infographic from 2018 (also published on MyInd Makers)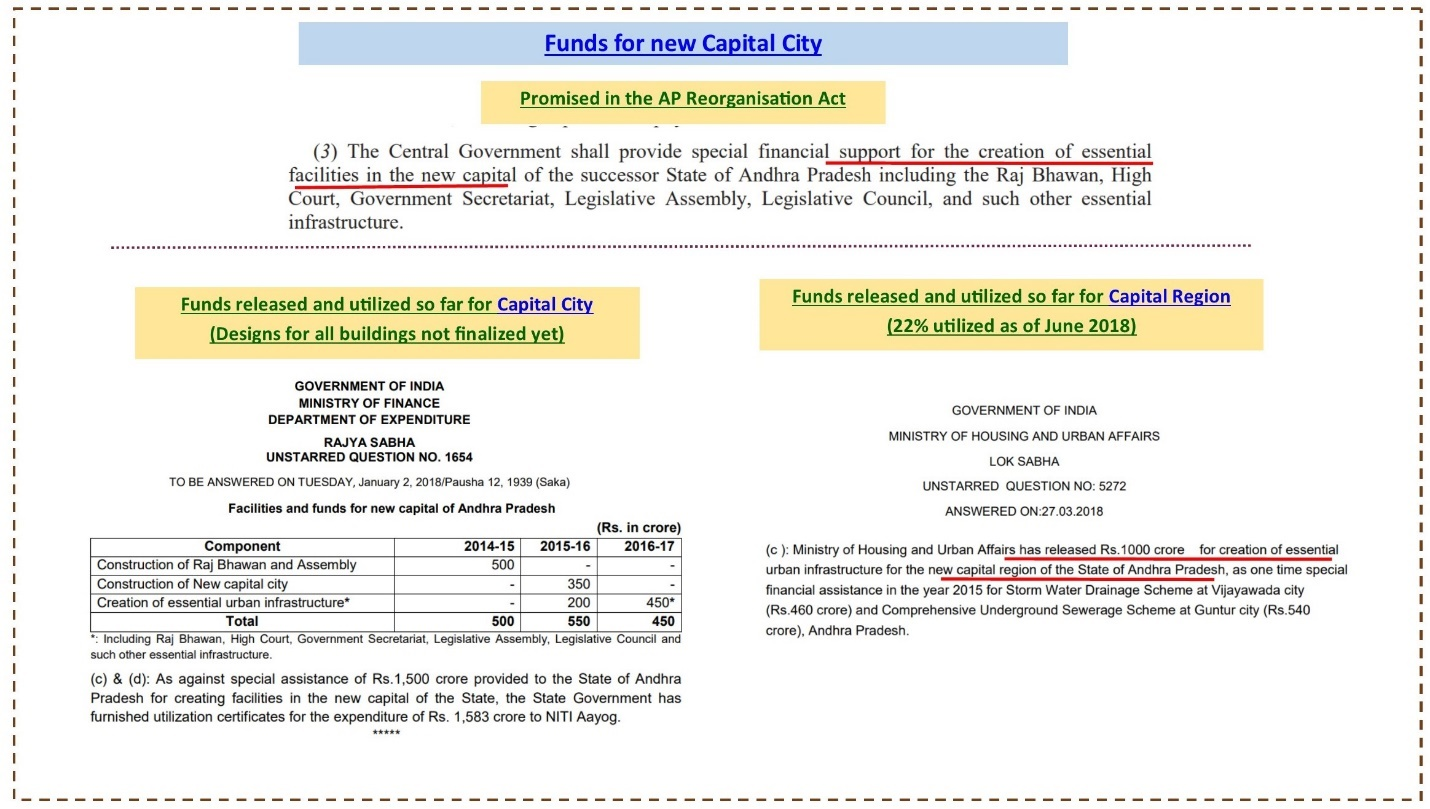 We had written an article in 2016 complimenting the heralding of a new capital city – "Amaravati – Towards the new beginning".
Once Chandrababu Naidu decided to come out of the NDA in March 2018, he went bonkers on many things including the lie that nothing was given for the building of the Capital city. They went to town saying that all Modi gave was soil and water. When questioned on the above facts, he and his entire SM army told us that we will need 1 lakh crore to build a capital, what good will 2500 crores will do?
We had written a detailed article then on how Amaravati became embroiled in many unnecessary controversies – " Chaos over Amaravati – Why is yet to be built new Andhra Capital already mired in Controversies?". Even as recently as November 2019, I was trolled by the SM army of TDP with some random allegations that I didn't support Amaravati!
The people of Andhra Pradesh gave a resounding blow to the TDP in the 2019 elections. The new Chief Minister, Jagan Mohan Reddy stirred the proverbial hornet's nest by announcing that he is planning to split the Capital into three cities – Administrative in Visakhapatnam, Legislative in Amaravati, Judiciary in Kurnool. Understandably, the TDP and its mouthpiece media has begun a campaign against this idea (by the way, even I agree that this is a bad idea, but this article is not about that).
As part of this coverage/analysis, the largest circulated telugu newspaper Eenadu has been publishing many full-page articles explaining why Amaravati is the best choice. And in the full-page article published on January 9th, 2020, Eenadu tells us a startling fact – Amaravati is ready and no more additional expenses needed for Amaravati!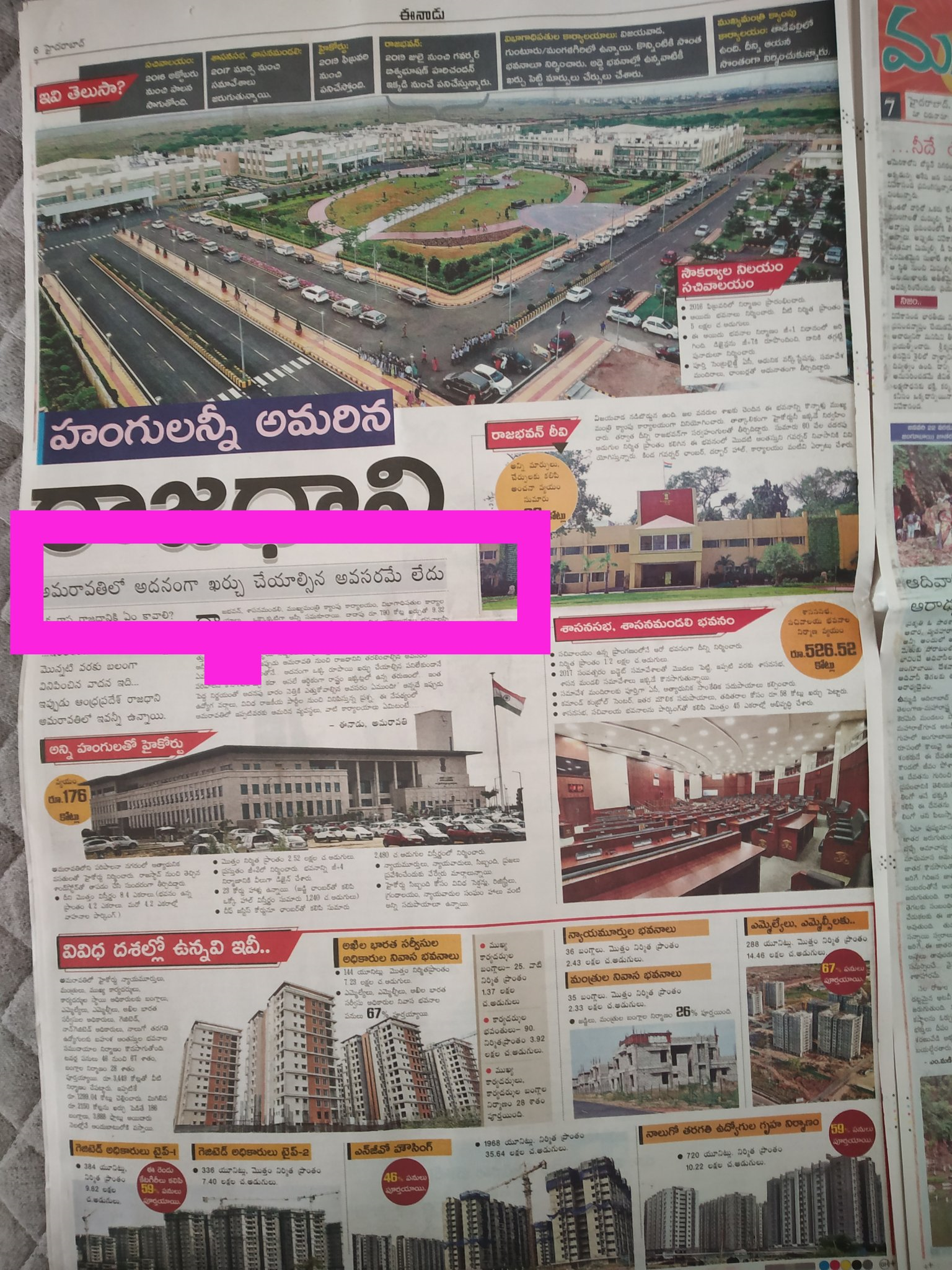 The info graphic article also gives details on the infrastructure that is available, and the money spent on these buildings so far. We are told that a fully equipped modern High Court was built with INR 176 crores only and is functional since Feb 2019. My mind immediately went back to the ruckus that Chandrababu Naidu (and his media) created for getting this High Court functional.
The AP reorganization act 2014 stipulated that Telangana and AP can have a common High Court till 2024. Telangana government wanted the split to happen much earlier. Chandrababu Naidu was keen to first move the secretariat and assembly to Amaravati and did so by 2016. In late 2018, the Supreme Court ordered the split of the Hyderabad High Court into Telangana and AP High Court. The AP government had submitted an affidavit stating that they are ready to have the HC functioning in Amaravati from December 15, 2018 onwards. So the SC ordered that the new HC can function from Jan 1, 2019.
And yet Chandrababu Naidu went on to create a major ruckus around this date, blaming Modi for hastening the process while not helping the government in any way! Note how the central government had already released funds for this construction between 2015 and 2017. The central government never pushed for the HC to be operational by 2019. It was Chandrababu who said he was ready and yet made the whole ruckus around this. And today, Chandrababu (and his media) is proudly proclaiming that a modern High Court has been built and is functional at Amaravati!
The Legislative Assembly and Council building cost INR526 crores, we are told. The Raj Bhavan cost INR30 crores we are told. The info-graphic also tells us that the residential quarters for Central Service officers, Judges, various state government cadre officers are at various stages of constructions. So, the 1500 crores given were indeed sufficient for the current infrastructure projects.
One of the biggest lie and fraud that was perpetrated by Chandrababu Naidu, the TDP cadre, almost the entire telugu media led by the mouthpieces Eenadu and Andhra Jyothi was that Narendra Modi is not giving any money for Amaravati. Any question regarding the funds already given and the buildings already being built was always shot down with contempt.
Chandrababu Naidu kept on telling us that the current buildings that he built are all temporary buildings only. He spent nearly 2 to 3 years trying to finalize the consultant who will build the capital city. Why will anyone release funds for construction of buildings whose plans are not even finalized? And how can anyone release more funds if Chandrababu Naidu was taking his own sweet time in changing consultants and finalizing designs?
After all that ruckus pre-2019, it was pretty shocking to see his media tell us that no more additional expenses are needed for Amaravati. This article is not discussing Jagan's weird idea of having 3 different capital cities. This article is about how Chandrababu Naidu ran a campaign of calumny before 2019. If he had taken this positive approach before 2019, then perhaps we would have seen a different result in the elections. What is the use of repenting now?
Disclaimer: The opinions expressed within this article are the personal opinions of the author. MyIndMakers is not responsible for the accuracy, completeness, suitability, or validity of any information on this article. All information is provided on an as-is basis. The information, facts or opinions appearing in the article do not reflect the views of MyindMakers and it does not assume any responsibility or liability for the same.
Comments