Rahul Gandhi tweeted a picture of him (above) with other leaders and used the hashtag #UnitedInVictory. The astounding irony of the picture and hashtag was just too hard to miss. Many leaders attended the swearing in ceremony of H.D.Kumaraswamy. But not all of them are in this picture! Since this is the picture which was posted along with the hashtag, #UnitedInVictory, one is left wondering - who exactly is a victor in this picture?
D.Raja, who hasn't won an election ever? V. Narayanaswamy, who didn't contest the Puducherry elections but went on to become the CM? Mayawati, who hasn't tasted any electoral success in the past 6 years? Sitaram Yechury, who personally hasn't won an election ever, and whose party recently lost their last bastion – Tripura? Kumaraswamy, whose party stood third, and yet went on to become the CM? Ajit Singh, who? Did we already forget the drubbing Akhilesh Yadav received? Rahul Gandhi – under whose leadership, the Congress party has lost election after election after election?
The real story lies in not who is in the picture, but who isn't! Outgoing Karnataka CM, Siddaramiah isn't. AP CM Chandrababu Naidu attended the event, and is not seen in the picture. WB CM Mamata Banerjee who attended the event, is not seen in the picture. Telangana CM though invited, didn't come to the event, because he doesn't want to be seen with Congress. He visited Bengaluru the day before to congratulate JD(S) though. Odisha CM doesn't want to be seen with both Congress and BJP, so he didn't even attend the event.
The point being that the real victors in their respective strongholds, in the 2014 or later elections are not seen in this picture! Every single leader who has lost at the hustings, have come together to create a claim an imaginary victory, and are being liberally aided by friendly English media.
KCR wanted to create a regional party front that will not care about either the Congress or the BJP. He has made very harsh comments about both the parties when he announced his intentions to go into national politics, as explained here in an earlier article. To this effect, he went about meeting many regional party leaders – Mamta Banerjee, M.K.Stalin, H.D.Kumaraswamy, Akhilesh Yadav, and Naveen Patnaik. Not even one of them have bought into his idea of not relying on Congress. Almost everyone has said that it is impossible to beat the BJP without the support of Congress – so KCR is currently is facing a dilemma on how to proceed further with his idea.
Meanwhile, Chandrababu Naidu keeps getting propped up. He was seen with the Congress party leaders yesterday. Obviously, he is open to taking their support (a la United Front effort), but is severely limited by the number of seats he can win. The strongest electoral leader of them all – Mamata Banerjee – is mum on her plans.
Meanwhile, so called analysts are trying to add up vote percentages of different parties and trying to sound intelligent by suggesting a simple solution – all these parties enter pre-poll alliances. Wouldn't it be nice fun to watch Cong-Left form an alliance in Bengal but fight against each other in Kerala or to watch Rahul wage a war against corruption by allying with Lalu's party?
Those who are "#UnitedInVictory", what exact value are they bringing to the table? Those who are "#UnitedInVictory" are united only because of hatred towards one man – Prime Minister Narendra Modi. Like a friend pointed out to me, the last time such a conglomeration happened was here, and we all know what happened since!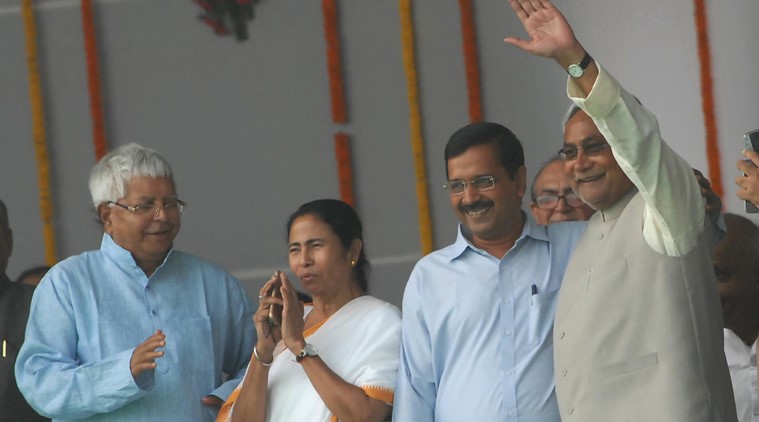 Disclaimer: The opinions expressed within this article are the personal opinions of the author. MyIndMakers is not responsible for the accuracy, completeness, suitability, or validity of any information on this article. All information is provided on an as-is basis. The information, facts or opinions appearing in the article do not reflect the views of MyindMakers and it does not assume any responsibility or liability for the same.
Comments