When Amit Shah wrote a letter to Chandrababu Naidu and he replied via a 2 hour speech
On March 23rd, 2018, BJP President Amit Shah wrote a 9 page letter to TDP President and CM of AP, Chandrababu Naidu. On the next day, Chandrababu Naidu gave a 2 hour speech in the Legislative Assembly, most part of which was dedicated to countering the contents of the 9 page letter.
The aim of this article is to not go into every single detail, but to give a broad overview of certain aspects that need to be highlighted.
The controversy regarding Utilization Certificates (UC).
In recent times, BJP mentioned about the non-submission of UCs by the government of AP for the funds released by the central government. TDP, at first tried to counter by saying all these are available online, and BJP is attacking the people of AP and not just the government of AP.
So far, the center has released 2500 crores for the capital region of AP. 1500 crores were released for Amaravati, and 1000 crores for Vijayawada & Guntur (which fall under the capital region). Amit Shah, in his letter, claimed that the state government has spent only 8% of Rs. 1000 crores released by MoHUA for the capital city. Chandrababu Naidu in his speech (At 1:34:30 in this video), mentioned that ~36% of UCs were submitted for money released to Guntur, and 8% for money released to Vijayawada – on an average, 22% of UCs were submitted for the 1000 crore released. So whilst we can continue to debate on the quantum of UCs, it does remain a fact that UCs for the full amount released were not submitted yet.
Chandrababu read out details of a letter from NITI AAYOG, that said the UCs submitted for 1500 crores released towards Amaravati are in proper order, and recommended a further release of 1000 crores (which haven't been released). However, it is pertinent to note that Amit Shah hasn't questioned CBN on these 1500 crores yet.
Amit Shah has also claimed that only 12% of 1050 crores released by the central government for backward areas have been utilized. Chandrababu Naidu first told us that central government gave only 350 crores for 7 backward districts, and they immediately took it back, citing that PMO didn't approve the amount yet! The claim sounded surprising, because I am not sure how we can get back money into our account, once we transfer it out!
After Amit Shah's letter came out, Chandrababu Naidu clarified in his speech that UCs for 946 crores out of 1050 crores have been submitted. However, here is the catch. The amounts were released from FY 2014-2015 onwards (yearly 350 crores), but the UCs were submitted in FY 2017-2018!
Does this mean that Amit Shah is technically right in asking that funds were in fact not utilized in the FY 2016-2017?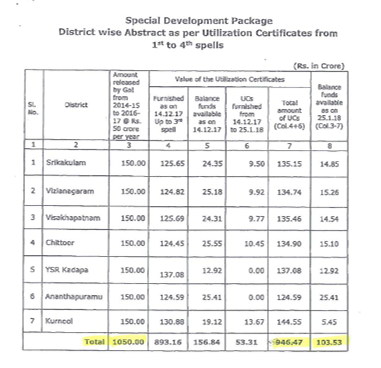 And even to these UCs, there were some queries that came back from NITI AAYOG, and the state government responded back. Whilst this process was on, CBN claims that an additional 350 crores was transferred by Finance ministry, but taken back the next day because the PMO didn't approve! Assuming this to be the correct story, what exactly is wrong in what the PMO did?
Chandrababu Naidu has been very successful in selling this 350 crores being taken back story. It was only after Amit Shah's letter came that most people even came to know that 1050 crores were released for the development of backward districts!
The controversy regarding Educational Institutes.
In the AP reorganization Act, 11 educational institutes were promised. Amit Shah mentioned that 9 institutes have already been sanctioned and have begun operations too. Amit Shah doesn't mention these are in temporary campuses, perhaps because it is norm for them to function in temp campuses until such time permanent campuses are built.
Chandrababu Naidu is telling us that only ~576 crores have been released for these 9 institutes, and a total of 11,000 crores is needed for setting up these institutes in permanent campuses. There have been some claims that the state government has not yet finished land acquisition. For example, the land for IIM Vizag, was only handed over last month. Chandrababu Naidu, in his long assembly speech, also told that nearly 550 acres of land has been given for IIT Tirupati, for which only 100 crores have been released so far. He is claiming that the center is not doing any favors because all land acquisition is by the state government only. But he hasn't gone into the details of all these 9 institutes. So, we are back to the original argument – there has been good progress on the educational institutions, but the sparring is now about when will permanent campuses get ready!
The controversy regarding Infrastructure projects.
In his letter, Amit Shah has written about the detailed status of each and every project mentioned in the AP Reorg Act. For every progress shown, either Chandrababu Naidu is saying that centre is not doing any favour or saying that enough money is not given! He has skipped reference to most of these projects, but instead employed a lot of rhetoric.
For example, when Amit Shah mentioned about the development of three airports (Vijayawada, Visakhapatnam, Tirupati), CBN claims all land was given by him so what is the favour that the centre has done? Similar logic is employed when referring to the multiple rail and road projects that Amit Shah mentioned. Going by CBN's response, it looks like these infrastructure projects are a reality and with nothing to counter upon, the rhetoric of "So what if the center did it? It's their duty, they can't claim credit" is constantly being employed!
Is anyone absolutely right or absolutely wrong, in this whole saga?
In consonance with what I have been saying all along – it is wrong to say that the center didn't do anything for AP. Amit Shah's letter and CBN's response is proof enough of that. However, it is absolutely right in saying that the center has either ignored or significantly delayed some key promises, that has led to this breakup of the alliance. CBN, in his marathon speech, even claimed that whatever 2,00,000 crores additional funds they got was due to Finance Commission recommendations, and they are no special favours to the state of AP. He has cited the various incentives provided to the North Eastern states periodically (through cabinet decision), and questioned why AP is not being given any of those incentives. Solely based on what was promised, CBN is well placed to ask this question – and it is this query that the BJP has not been able to counter properly.
In his speech, CBN also claims that AP has the best GSDP and has been consistently ranked Number 1 in "Ease of business rankings". The most obvious question that comes to mind is this – why then do they need any more special assistance? Answer is simple – because it was promised.
CBN has tried to portray Amit Shah's letter as an insult to the people of AP, and has made some unsavory remarks on how the state sends funds to center and the center then decides how to split it – but that argument is for another day
Disclaimer: The opinions expressed within this article are the personal opinions of the author. MyIndMakers is not responsible for the accuracy, completeness, suitability, or validity of any information on this article. All information is provided on an as-is basis. The information, facts or opinions appearing in the article do not reflect the views of MyindMakers and it does not assume any responsibility or liability for the same.
Comments