Lalu Prasad Yadav led Bihar to its darkest days, the journalists supporting him don't seem to remember that
The former CM of Bihar, Lalu Prasad Yadav, who has been sentenced to 14 years in jail, convicted in the "fodder scam," is one of India's most notorious politicians.
It is difficult to express disgust when one sees journalists busy portraying the innocence of this convicted rustic criminal. For the liberal journalist cabal, all that matters is their agenda. Look at how they talk about a convicted political accused of many scams: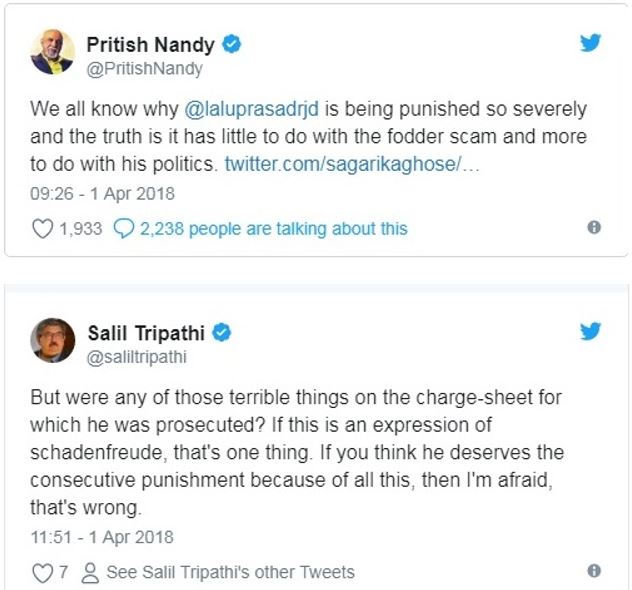 There are not only tweets but a range of full-length articles whitewashing the truth, full of lies and propaganda to cheat this generation and to absolve Lalu Yadav's nightmarish regime of the grave charges.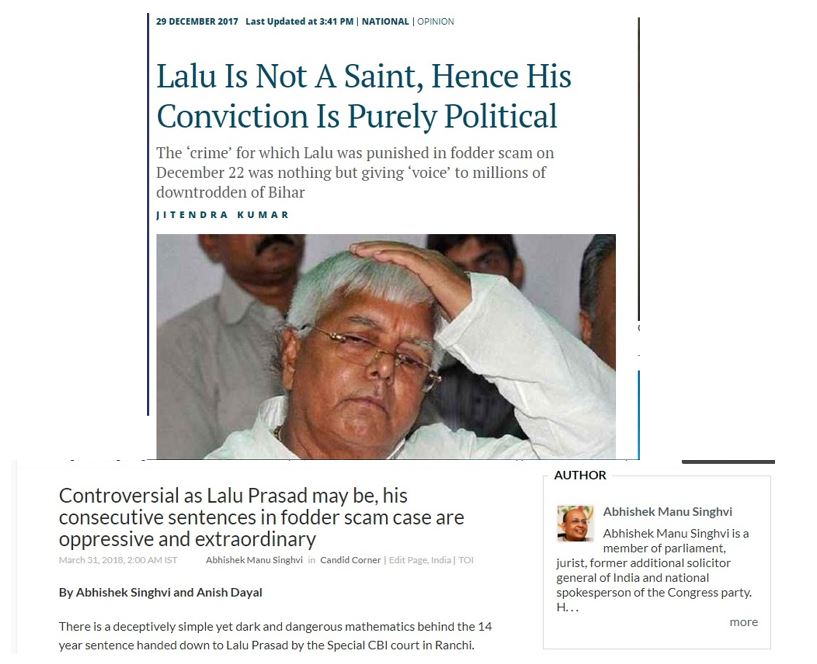 It is a shame that we actually have to remind people about Lalu's Jungle-Raj! But we shall do it every time there is an attempt to project him as Bihar's Nelson Mandela.
Ask any Bihari who grew up in that period in Bihar, these scams are nothing when compared to the organized crimes under Lalu's regime, when moving out of the house after dark was risky. I have lived in THAT Bihar and let me explain what Jungle-Raj was, and why the term is associated only with the regime of 'Saheb, Biwi & Gangsters' of Bihar.
Rampant Caste-Religious Division:
Lalu's regime in the early 90s was defined by anarchy. The dominance of Yadavs and suppression of upper castes as the primary political objective walked hand in hand. In 1992, Lalu's blatant notorious proclamation defined what he had set out to do, "भूरा बाल साफ करो (eliminate Bhumihars, Rajputs, Brahmins, and Lalas or Kayasthas)."
Bihar saw the rise of caste violence. The Maoist movement was also on the unprecedented rise. During that period Bihar witnessed some of the bloodiest caste violence in the history of independent India. The mass caste based massacres such as the ones in Bara, Senari, and Laxmanpur-Bathe, all took place during the rule of Lalu.
Lalu Yadav openly solicits votes in the name of caste and religion who had a loyal vote bank of MY (Muslim-Yadav). The Yadavs along with Muslims constituted as 30% of voting population in Bihar, which is phenomenal to consistently sustain in any election and even to win. Despite his Jungle-Raj, they kept voting for him "en block." He would campaign with an Osama lookalike to appease the minority voters. All critical government posts were given to the either Muslims or/and Yadavs and a few other Lalu loyalists.
Mandal Vs. Kamandal: A few months after assuming his role as the CM, Lalu made a name for himself by stopping an "Advani's Rathyatra" by arresting him. Lalu gained massive Muslim support that made him the darling of the left-liberal intelligentsia, forever.
Lalu was also a strong supporter of the Mandal Commission report wherein 27 percent of government jobs would be reserved for the OBC section of the society. This made Lalu a popular figure among the OBCs.
Mentoring Hardcore criminals:
Immediately after Lalu took charge in 1989, he started a cordial relationship with all "Bahubalis" and "Rangdaars" (Musclemen and extortionists), irrespective of their caste and religion. It was during this era that dreaded criminals like Mohd. Shahabuddin, Prabhunath Singh, Pappu Yadav, Daddan (Pahalwan) Yadav, Reetal Yadav, Bindi Yadav, and all flourished, and he gave a clear passage to them, who invoked fear and havoc in Bihar. Each one of them has their own stories.
"लालू - अरे उ बहुते परेशान कर रहा है आजकल, कुछ करो उसका. (Lalu- He is troubling a lot these day, do something about him.)
शहाबुद्दीन - चिंता मत करीन, ओकर काम हो जाई (Shahbuddin- Don't worry, he will be sorted.)"
It was during this time that Shahabuddin, now in Tihar jail convicted of murder, reached the peak of his 'powers.' Allegedly guilty of numerous murders, Lalu's support for him was so strong that even the state police were scared to file a case against him. He is accused of giving acid-bath to people who ever dared to go against his will or depose as witnesses.
Lalu's notorious brothers-in-law, 'Sadhu Yadav & Subhash Yadav' also became the epitome of crime & hooliganism, and the duo had even assumed a pivotal political role.
"हम वही करेंगे जो जीजाजी कहेंगे, और कुछ अपना मन का भी करेंगे काहे कि हम उनका साला हैं." [We will do whatever our brother-in-law (Lalu Yadav) says and will also do whatever stuff we feel like because we are his brothers-in-law.]
Soon, most of his muscle men entered into politics under his patronage. Surajbhan Singh, then used his famous electoral punch-line: "जहाँ ना हो वोट अप्पन, वहाँ रख दो AK-छप्पन" (Where you see we do not have votes, show them our AK-56.)
In return for protecting the criminals, Lalu Yadav openly used the muscle power of these criminals to remain in power.
Murders and Kidnapping:
During this time, the only industry which proliferated was that of 'kidnapping.' This was the time when almost every day, cases of kidnapping regularly made headlines in the newspaper from across the state. The only people who were wealthy were the practicing Doctors, corrupt Engineers, and bureaucrats and their kids were the prime targets for kidnappings. Kids disappeared, the well-off could pay and get their kids back, others couldn't. Sadly, sometimes many were killed even after they took the ransom.
A survey done by The Times of India had shown that in Bihar, from 1992 to 2004, the total number of reported kidnapping cases was 32,085.
During this time, a lot of political murders were reported and to make it worse, children and youth were sucked into the nexus of crime and lost out on education. According to the Bihar Police website, the number of murders during 2001-2005 alone was a massive 18,189.
Abhishek Murder Case: The two friends, who accompanied Abhishek and Ragini (Lalu's daughter) to a picnic at Dasham waterfalls, where Abhishek had drowned in somewhat mysterious circumstances, had claimed that the couple were in love and planning to get married. The local administration took Ragini and the other two boys to the chief minister's residence after which they disappeared.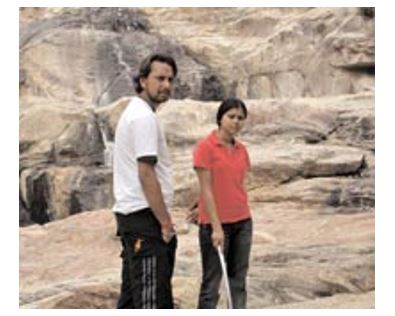 LAST DAY: Abhishek with Ragini at the waterfall where he died
The postmortem report released within 15 minutes of the autopsy, stated it was an accidental drowning. This led to Dr. Mishra's (Abhishek's father) doubts, why the administration was in such a hurry to prove that the death was an accident.
Dr. Mishra sought a CBI inquiry into the incident which Madhu Koda, the UPA chief minister of Jharkhand, immediately rejected. The case has parallels with the Nitish Katara murder case, but Lalu Yadav is not D P Yadav.
The Mithila Motor Case: When Lalu's daughter was getting married, Sadhu Yadav allegedly forcefully took away more than 100 Maruti cars from the Mithila Motors to ferry wedding guests from the airport. Out of fear the Regional Service Officers accompanied the goons to a Telco stockyard and drove away with Tata Safaris and Tata Sumos. Loads of jewelry was picked up from Alankar Jewellers with the Yadavs refusing to pay the bill, according to some accounts.
For businessmen and traders, it meant downing their shutters. The Patna operations of many leading automobile dealers were closed.
Champa Biswas Rape Case: Champa Biswas, the wife of B.B. Biswas, a 1982 batch IAS officer serving as director in the state's Labour Department, claimed that Mritunjay and his friends raped not only her but also her mother, her two maidservants, her sister-in-law and Biswas' niece, Kalyani. They were "subjected to sexual exploitation with criminal coercion and intimidation, rapes with violence," she stated in her complaint.
Son of Hemlata Yadav, a former RJD MLA, Mrityunjay was an influential RJD activist who had also penned a hagiography of Lalu Yadav. The matter would have remained under wraps, but Champa shot off a letter to the state Governor Sunder Singh Bhandari, demanding action against the accused.
In her letter, she claimed that she had undergone one abortion and subsequently opted for sterilization "to avoid pregnancy due to repeated rape." She also expressed fears that Kalyani and two maidservants, who have since disappeared, may have committed suicide or been murdered. The case was never concluded.
Shilpi-Gautam Murder Case: Shilpi Jain was a vibrant girl and Gautam, an office bearer of the ruling RJD as well as a business partner (Silver Oak Restaurant) of Sadhu Yadav. It is also alleged that Gautam's father, Mr. B.N. Singh played a crucial role in laundering the money of the famous Fodder scam to Swiss banks through hawala.
On 3rd July 1999, the dead bodies of Shilpi and Gautam were found in a White Maruti Zen in the garage of MLA Quarter. The police claimed that the deaths happened as a result of accidental carbon monoxide poisoning. Later when the viscera report revealed that Shilpi and Gautam had been poisoned with Aluminum Phosphide. Police could not explain why the post-mortem report said that semen samples of more than one person were found from Shilpi's body.
The case was handed over to CBI. However, the blood sample of Sadhu Yadav could not be obtained as he "refused to cooperate" and also got a clean chit from the court. Incidentally, the brother of Shilpi Jain was kidnapped a few years later when he was trying to get the case reopened. The case is shut till now.
Booth Capturing:
The government machinery ensured all elections were rigged. Before EVM's, booth capturing used to happen in the majority of the voting centers. There were many malpractices done with ballot papers: miscounting of votes, ballot papers with default RJD votes. It was with the emergence of EVM's and a reliable election commission when Lalu Yadav was unable to influence votes in his favor. I remember clearly, how people of Bihar celebrated fair election process in 2005, for the first time.
Rangdari Tax:
The 'rangdari tax' (Hafta/extortion) meant that every time a person started a new business or bought property or a vehicle, it was mandatory that he/she pay a certain amount to the local goons. If you showed any signs of wealth, you were the target. I remember fondly, a cousin came from Belgaon, flashing a gold chain. The other cousin passed a joke: "जबतक कोई माँग नहीं रहा है भैया, तबतक झल्काईये, नहीं तो बैग मे रख लीजिए." (Flash it till none are asking it from you, or keep it back in your bag.)
Other crimes:
There was hardly any crime left that wasn't committed in Bihar during Lalu's Jungle-Raj. An IAS officer was burnt alive, the beating-up of chief engineers inside their offices by contractors was normal. In 2001, Sadhu Yadav and his men had roughed up an IAS officer N.K. Sinha and forced him to pass an order at gunpoint.
IAS officers used to prepare 'Khaini' (Chewing tobacco) for criminals and Netas who were running the state. Officials during this regime used to have nightmares about "midnight transfers" and also were under the mortal fear of death.
The famous filmmaker from Bihar, Prakash Jha made two movies 'Gangajal,' and 'Apharan' on the state of Bihar during this phase and another one 'Shool' also came out in the same decade. They were not mere Bollywood flicks, but a literal depiction of the state of Bihar.
Dysfunctional Civic Bodies:
When we grew up in Patna, the city that was normal like any other city before the 90s. Then we started to witness 10 days (not 10 hours) power cuts. In our village, we would have 6-7 hours of power cut during day time before Lalu regime. During this period, it never came. Electric poles and cables started vanishing. So much so that when power used to be restored late night in cities like Bhagalpur and Muzaffarpur, people cheered.
Every monsoon, the open sewers and drains were de-clogged. When it rained, the roads were like swamps, the shit (literally) would flow on to the roads. We grew up struggling with a miserable life that was forced on to us.
Brain Drain:
It was this time when mass cheating became an industry and education system was completely dysfunctional. I appeared for my 12th under Bihar School Intermediate Council in April, only to receive the results next February. We all lost a year. There were no national outrage like re-examination of one CBSE paper. We had to live with it without making noises.
There were mass exodus of students from Bihar for even simple graduation courses to Delhi, UP, MP and even places as far as Pune, Banglore, Amrawati and Kota. One could find Biharis almost in every state of India, as students, laborers, rickshaw pullers, doctors, engineers, traders, businessmen etc. Most of them migrated not because they wanted to, but because they had no choice.
All Biharis were perceived as corrupt & criminals by people of other states. We were looked down and sadly, being a Bihari became an abuse, an insult and was being identified with Lalu. Many I know started hiding their identities. We have seen it all.
Brazen Nepotism:
When Lalu was thrown inside jail after first fodder scam case, he put his wife Rabri on the Chief Minister's chair. She wasn't a politician but a housewife at that time.
"साहेब चाहे हैं तो हम मुख्यमंत्री बन गये हैं, जैसे अब तक घर चलाते थे वैसे ही प्रदेश चलाएँगे." [When the boss wanted, I became the CM, now I will run the state the way I used to run the home.)
First, he unethically got his daughter Misa Bharti a doctor degree (a topper), and now his sons, all accused in several major corruption cases, are running the party under his patronage.
Rustic Arrogance:
Lalu simply cannot behave. Forget his opponents, he won't even give two hoots to senior IAS/IPS officers or media personnel. Long back, when Nepal released waters and entire North Bihar was flooded, with significant loss of life and property, Lalu while doing an aerial survey said to media: "It's a good, now all the fish will come to their house which they can cook and eat happily." That is how insensitively brazen he always has been.
Recently confronted by a Republic reporter on corruption charges, he lost his temper and said "अपने बाप से पूछो" (Ask your dad) and "दो मुक्का मरेंगे की यहीं गिर जाओगे" (Will give you two boxes and you will fall flat), all this inside the Parliament.
The irony is, that the same media fraternity finds his rustic behavior, cute and funny.
Political opposition or even hate for a politician for personal reasons aside, how can one glorify one of the biggest criminal of the country? The history shall remember Lalu's era as the most corrupt regime that took Bihar into the dearth of darkness that became a living hell.
(Note: All Images provided by the author)
Disclaimer: The opinions expressed within this article are the personal opinions of the author. MyIndMakers is not responsible for the accuracy, completeness, suitability, or validity of any information on this article. All information is provided on an as-is basis. The information, facts or opinions appearing in the article do not reflect the views of MyindMakers and it does not assume any responsibility or liability for the same.
Comments