Is it Ignorance or yet another Mischievous attempt at proving the never existent Aryan Invasion of India?
Mr. Tony Joseph has recently written an extremely erroneous Op-Ed in the famous communist Mouthpiece "The HINDU" (http://www.thehindu.com/sci-tech/science/how-genetics-is-settling-the-aryan-migration-debate/article19090301.ece) about the Aryan Invasion Myth. Many rebuttals are being churned out including this but let me begin by thanking him for clearly stating his claim:
"did Indo-European language speakers, who called themselves Aryans, stream into India sometime around 2,000 BC – 1,500 BC when the Indus Valley civilization came to an end, bringing with them Sanskrit and a distinctive set of cultural practices? Genetic research based on an avalanche of new DNA evidence is making scientists around the world converge on an unambiguous answer: yes, they did."
Let's summarize his claims:
Aryan came to India around 2000 BCE -1500 BCE
The language of Aryans was Indo-European
Aryans came to India when Indus valley civilization came to an end
Aryans brought Sanskrit to India
Aryans brought distinctive set of culture practices to India
Genetic research based on new DNA evidence unambiguously support these claims
As it happens, Genes don't speak or encode cultural practices, so we may wonder how Mr. Tony Joseph reached these conclusions.
Let's begin with what Mr. Tony Joseph cannot deny and has fortunately not denied.
Genetics research conducted over the last 30 years has shown that the first successful migration/exodus out of Africa took place between 120,000 and 80,000 years ago, via the southern route out of Africa and reached areas of modern Malesia about 74,000 years ago and to Australia about 70,000 years ago. Europe and West Asia experienced their first migration around 50,000 years ago. Central Asia and West Eurasia experienced their first migrations around the same time i.e. 40,000 -50,000 years ago. The role of Greater India (modern Iran, Afghanistan, Pakistan, Bangladesh, Myanmar, Sri Lanka) is central, as the source of all non-African dispersals.
It is very critical to define the boundaries of India, as far as ancient migrations are concerned. What we will call 'Greater India' for the sake of convenience is defined as a geographical landscape that begins in the west with modern Iran and stretches in the east to modern day Bangladesh/Myanmar and in the south to Sri Lanka (Figure 1)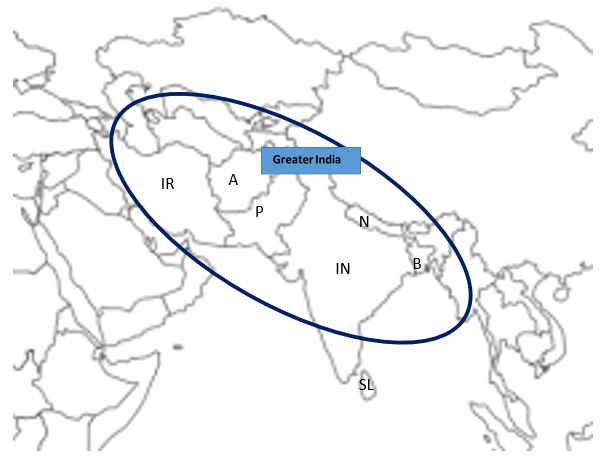 Figure 1
To illustrate how careless interpretation can lead to disastrous wrong conclusions, let me quote a passage from a paper by Prof. Spencer Wells of Stanford University1:
"Although the bias cannot be ruled out, most of the markers examined here are located relatively deep within the NR Y evolutionary tree (8), and thus there is no a priori reason to expect a bias toward Central Asia. In addition, Y chromosome microsatellites indicate that Central Asia (Pakistani) populations are the most diverse in Eurasia (19). The consistency of the biallelic and microsatellite results suggests that Central Asian populations are among the oldest on the continent. This pattern of high diversity is consistent with an early settlement of Central Asia by anatomically modern humans, perhaps 40,000-50,000 years ago (see below), followed by subsequent migrations into Europe, America and India, dispersing M45-, M173-, and M17- derived lineages." [emphasis mine]
Enough said!
Mr. Tony Joseph seems to agree that based on matrilineal DNA (mtDNA) data, there was little external infusion into the Indian gene pool over the last 12,500 years or so. We may add that this conclusion is reached by genetic researchers with the help of mtDNA data coupled with climatology data. In fact, when it comes to dating of plausible spread and migration of people, genetic researchers do take their clues from climatology and archaeology in estimating the timeline of such migrations.
Predominant role of Greater India in non-African dispersal of human beings, based on mtDNA is summarized by Metspalu et al2 in Figure 2: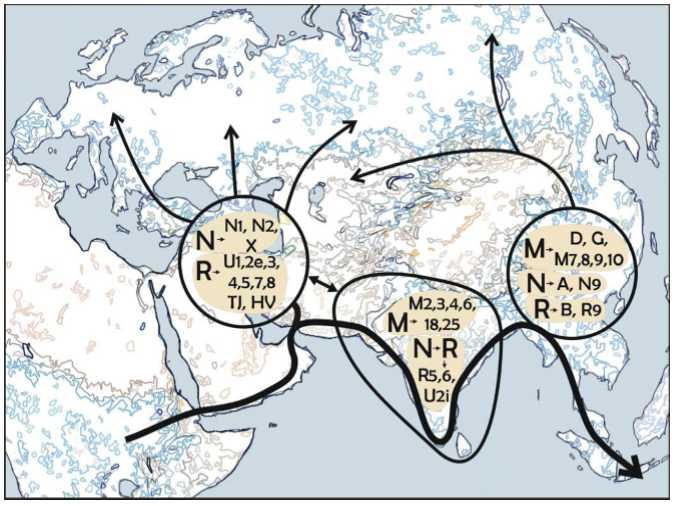 Figure 2
Notice the internal (back and forth) interaction and migration within Greater India (Figure 2), In fact, the actual boundaries of Greater India can be justifiably defined further outward, but these will do for now.
This brings us to our first disagreement with Mr. Tony Joseph.
Joseph claims:
"New Y-DNA data has turned that conclusion upside down, with strong evidence of external infusion of genes into the Indian male lineage during the period in question"
He cites research done on Y-chromosome (male chromosome) haplogroup (HG) known as 'R1a' by stating that about 17.5% of Indian male lineage has been found to belong to haplogroup R1a and that today this group has spread across Central Asia, Europe and Great India (Iran through Bangladesh). So far so good. On the other hand, Mr. Tony Joseph is wrong when he states that- "Pontic-Caspian Steppe region is the region from where R1a spread both west and east."
We will let genetic data do the talking.
Mr. Tony Joseph states that "The paper that pulled all of the recent discoveries together into a tight and coherent history of migrations into India was published just three months ago in a peer-reviewed journal called 'BMC Evolutionary Biology'!!
The paper Joseph is referring to is by Prof. Martin B Richards [Silva et al (2017)]3 which consumes the first 12 of its total 18 pages in confirming Greater India as the source of mtDNA for all non-African dispersals. Finally, when the paper does get into Y-chromosome data, all it does is repeat the well-established expansion of HG R1a both west and east across Eurasia and equally well established ancient nature of this HG R1a within Greater India and Central Asia.
The key argument made in the paper that is the cause of confusion of Joseph comes next: The paper states that available high-quality Y chromosome data shows presence of R1a throughout Eurasia and in Greater India. It also states presence of young subclades in Greater India and expansion of subclades of R1a-Z93 or R1a-Z94 in these regions (Figure 3).
This is all true however, this does not lead to the desired conclusion of either the authors of the paper or of Mr. Tony Joseph, viz.: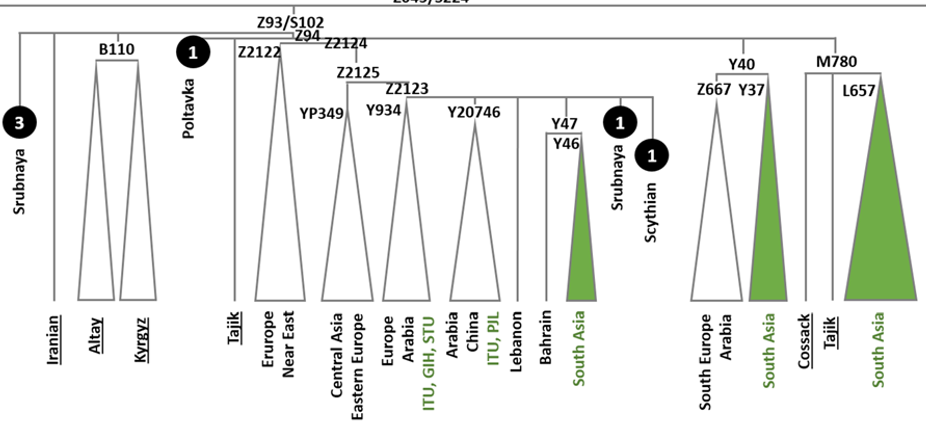 Figure 3
The authors claim:
"Altogether, therefore, the recently refined Y-chromosome tree strongly suggests that R1a is indeed a highly plausible marker for the long-contested Bronze Age spread of Indo-Aryan speakers into South Asia."
Thankfully, the authors of the paper (but not Mr. Tony Joseph) are aware of the conjectural nature of their claim and immediately add:
"although dated aDNA evidence will be needed for a precise estimate of its arrival in various parts of the Subcontinent. aDNA will also be needed to test the hypothesis that there were several streams of Indo-Aryan immigration (each with a different pantheon), for example with the earliest arriving ~3.4 ka and those following the Rigveda several centuries later [12]."
The reference [12] is the inspiration for their conjecture and when one digs deeper, one realizes that the reference [12] in their paper is to a book by A Parpola, a linguist and known supporter of the Aryan-Dravidian divide. And with this we are back to the familiar mythical Aryans streaming into India, this time around 1400 BCE (~3.4 ka) and then writing Rigveda!
What is the problem with this research and such bizarre claims?
First and foremost, the same data can be used to make a claim for outward migration from India into Central Asia. Let us remind our readers that hydrology and genealogical evidence of Rigveda combined with astronomical evidence of Ramayana and Mahabharata proves, beyond a reasonable doubt, the chronology of older sections of Rigveda to late Pleistocene (before 10,000 BCE) and youngest sections of Rigveda (e.g. Mandala 10) to mid-Holocene (5000 BCE), long time before ~3.4 ka.
But let us return to the faulty inference based on a combination of genetic data and the dogma of AIT (Aryan Invasion Theory). What causes researchers to make such claims that are not substantiated by supporting genetic evidence??
To understand this, we first must understand how this genetic sequencing is tracked.
Primer on Phylogeography
The great advance that came with genetic research over last 30 years is allowing us to map mtDNA and Y-chromosome trees with increasing resolution thus enabling us to trace individual molecular branches and their twigs. The fancy name for this tracking is Phylogeography. In lay terms, it is essentially following twigs back to their branches and connecting points on a map.
The rules are simple, although their application is somewhat complex; maybe why researchers from this very field can reach erroneous conclusions. Of course, if they allow themselves to be swayed by Mythical Aryans, Indo-European languages and Rigveda, then all hell breaks loose.
It is good to remember that Genes do not distinguish racial, and now obsolete, concept of race, nor can it tell us about the languages spoken by specific molecular branches or the poetic abilities of certain mutated genes in composing the oldest text of humanity – The Rigveda!
.
To detect a migration from one region to another, we need to find the source branch type in both regions and a new unique twig in the target region that is not present in the homeland. If one understands this, then R1a branches and its twigs point to expansion from Greater India into Eurasia -both east and west. To comprehend this fact, we would have to refer to another paper quoted by Mr. Tony Joseph. Underhill et al (2015)4 estimated divergence time of R1a-M420 Y-chromosome haplogroup to ~25000 years ago and the location of its diversification into Europe, Central Asia and Greater India, near present-day Iran (northwest tip of Greater India).
And while on the subject, it is worth mentioning that for a homeland with multiple migrations in different directions, we need to identify common branches in the homeland that have different unique twigs in the other region. Again, Greater India passes this test with flying colors as the source of all non-African dispersals.
Unfortunately, such inferences are completely lost on Joseph. Additional and equally erroneous claims follow from this perpetual lack of comprehension and misunderstanding.
Let's look at some of them in brief.
Mr. Tony Joseph writes:
"So, if you want to know the approximate period when Indo-European language speakers came and rapidly spread across India, you need to discover the date when Z 93 splintered into its own various subgroups or lineages."
And what do Prof. Underhill and team4 have to say about this Z-93 splintering? They estimate splintering of this M417 (proxy for splintering of Z280 and Z 93) to have occurred about 6000 years ago (4000 BCE).
These authors4 also admit that:
"We caution against ascribing findings from a contemporary phylogenetic cluster of a single genetic locus to a particular pre-historic demographic event, population migration, or cultural transformation."
OR
"However, our data does not enable us to directly ascribe the patterns of R1a geographic spread to specific prehistoric cultures or more recent demographic events"
On the other hand, Joseph insists on ignoring such sane advice in pursuit of his AIT dream. But then Mr. Tony Joseph is not alone. He is in a good company of many genetic researchers who have slides along such slippery slopes of illogical inferences and extrapolation.
Next Mr. Tony Joseph embarks on young age of some of the sub-branches of this R1a -Z93 haplogroup, based on the work of Poznik et al (2016)5 that refers to expansion occurring within Z93 haplogroup. It is hard to comprehend excitement of Joseph since such expansions as well as corresponding mutations are extremely common during the peopling of the world. Joseph tries to connect this with end of Sindhu-Sarasvati civilization.
Fortunately, commonsense prevailed in this case and he admits: "There is no evidence so far, archaeologically or otherwise, to suggest that one caused the other; it is quite possible that the two events happened to coincide."
However, such satisfaction is short lived. Joseph quotes a paper by Reich et al (2009)6 where authors employ the AIT aspect of Indo-Aryan pushing Dravidians to the south and use this 'theoretical' construct of 'Ancestral North Indians" (ANI) and "Ancestral South Indians" (ASI). Joseph loves the natural closeness of ANI with Middle eastern, Central Asian and European population and thinks of employing it in support of AIT. However, he is also aware of the problem. The problem is this study along with numerous other genetic studies have proved the ancient (15000-17000 years ago) of the admixing between ANI and ASI along caste and tribal barriers negating the very basis of AIT occurring only 3000-4000 years ago.
Mr. Tony Joseph decides to leave the subject at that and moves on to his next researcher. Mr. Tony Joseph quotes Prof. David Reich, professor of Harvard Medical School from his interview with 'Edge'. We will return to this interview of Prof. Reich, shortly.
Prof. Reich refers to 'profound population mixture event' and Mr. Tony Joseph tells us that this was based on a paper published by Priya Moorjani (2013)7, coauthored with Prof. Reich. Mr. Tony Joseph quotes substantially from this paper:
"The dates we report have significant implications for Indian history in the sense that they document a period of demographic and cultural change in which mixture between highly differentiated populations became pervasive before it eventually became uncommon. The period of around 1,900–4,200 years before present was a time of profound change in India, characterized by the de-urbanization of the Indus civilization, increasing population density in the central and downstream portions of the Gangetic system, shifts in burial practices, and the likely first appearance of Indo-European languages and Vedic religion in the subcontinent." [emphasis mine]
AND
"The shift from widespread mixture to strict endogamy that we document is mirrored in ancient Indian texts."
What Mr. Tony Joseph avoids telling us is that this paper also speculated three different hypotheses in explaining the admixture between ANI and ASI by proposing that this could be due to:
(1) migrations occurring prior to agriculture (mtDNA evidence supports this)
(2) Western Asian people migrating to India along with agriculture around 8000- 9000 BP (no evidence) or
(3) migrations from western or Central Asia from 3000 to 4000 BP, a time during which it is likely that Indo-European languages began to be spoken in the subcontinent (no evidence).
In fact, enormous evidence exist that demolishes all 3 hypotheses for inward migrations into India. But we do not have to state it. Rather we should focus on internal contradiction of author's own theories with their own proposals and claims.
In their words:
"A difficulty with this theory (#3), however, is that by this time India was a densely populated region with widespread agriculture, so the number of migrants of West Eurasian ancestry must have been extraordinarily large to explain the fact that today about half the ancestry in India derives from the ANI."
But there are even bigger problems: Again, in the words of authors of this paper:
"It is also important to recognize that a date of mixture is very different from the date of migration; mixture always postdates migration. Nevertheless, a genetic date for the mixture would place a minimum on the date of migration and identity periods of important demographic change in India"
Let's now revisit the much-touted interview of Prof. David Reich with "Edge".
I recall a forum member expressing his suspicion of Prof. David Reich as a 'closet AIT believer', when his 2009 paper "Reconstructing Indian Population History" was published and when motivation behind ANI and ASI classifications were being discussed on various Internet forums. Closet AIT believer or not, Prof David Reich seems to be drinking from the AIT ocean in ample quantity when it comes to interpreting genetic evidence for Greater India.
This is what Prof. Reich said during that interview:
"What's happened very rapidly, dramatically, and powerfully, in the last few years has been the explosion of genome-wide studies of human history based on modern and ancient DNA, and that's been enabled by the technology of genomics and the technology of ancient DNA. Basically, it's a gold rush right now; it's a new technology and that technology is being applied to everything we can apply it to, and there are many low-hanging fruits, many gold nuggets strewn because are being picked up very rapidly. That is precisely what is happening now.
What's very clear and what the archeologists who are really scientists, embracing scientific technology, are realizing is that this is a new way to investigate the past. This is going to be embraced by archeology, by the humanities, by linguistics, as a new way of inquiring into the past. In five or ten years, this will be integrated properly into departments of linguistics, especially into departments of archeology, as a central way of inquiring into the past."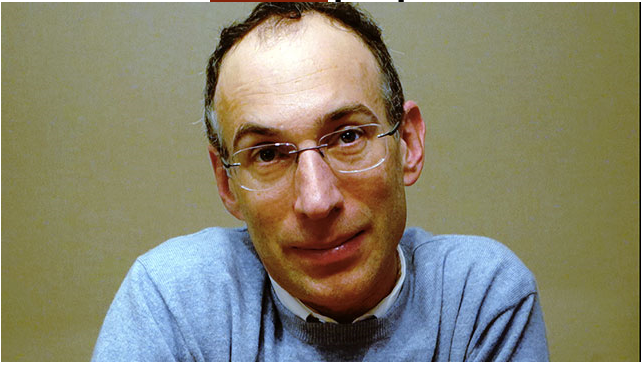 Prof. David Reich, Department of Genetics, Harvard Medical School
What Prof. Reich refers to as a future scenario is a reality right now. AIT began with linguistics, flourished with the help of colonial practicalities and was propped up by misleading usage of selective archaeological data. The AIT theme is being exploited by post modernists and now further buttressed by selective and misinterpreted usage of genetics data.
Of course, Genetics is a wonderful scientific discipline, still in its infancy, and dramatic progress in genome-wide studies are going to be crucial in understanding human history. This is very exciting. What we should worry though is when evidence from various disciplines of science is carelessly interpreted in the age-old construct of social studies.
Prof. Reich says, in the same interview,
"In India, you can see, for example, that there is this profound population mixture event that happens between 2000 to 4000 years ago. It corresponds to the time of the composition of the Rigveda, the oldest Hindu religious text, one of the oldest pieces of literature in the world, which describes a mixed society where there is people with not entirely Indo-European names who are being incorporated as poets and kings.
You have that happening, and then you have the ossification of that system into a kind of caste system, which you can see both in the genetics also reflected in the text. But you can establish this with the genetics, especially with ancient DNA, but even in the case of India with present DNA because we don't yet have ancient DNA from India. Anthropologists will eventually need to use this information, and they will because they've embraced also radiocarbon data."
It will be sufficient to note down key words 'linguistics', 'Rigveda in 1000 BCE', 'Indo-European poets' and 'caste system'. The error of Prof. Reich for the timing of Rigveda is certainly worrisome. But his following comment, during the same interview, takes the cake!
"What we had proposed was a ghost population, a population that we were predicting statistically based on the patterns that's left on present-day people but that doesn't exist anymore in the place where it once was."
This should remind many of the proposal of a ghost language – PIE (Proto-Indo-European)! This may also remind many of the proposals of Prof. Witzel, another Harvard faculty, for Proto-Munda and Proto-Indo-Aryan in justifying his fraudulent chronology for Sanskrit, AIT and Rigveda.
Let's return to the three claims made by Mr. Tony Joseph:
The first argument was that there were no major gene flows from outside to India in the last 12,500 years or so because mtDNA data showed no signs of it. This argument was found faulty when it was shown that Y-DNA did indeed show major gene flows from outside into India within the last 4000 to 4,500 years or so, especially R1a which now forms 17.5% of the Indian male lineage. The reason why mtDNA data behaved differently was that Bronze Age migrations were severely sex-biased.
Our response…
There are no major gene flows from outside India especially prior to 2000 years ago. Haplogroup R1a is an indigenous male haplogroup and its substantial presence and its antiquity in India is natural.
2. The second argument put forward was that R1a lineages exhibited much greater diversity in India than elsewhere and, therefore, it must have originated in India and spread outward. This has been proved false because a mammoth, global study of R1a haplogroup published last year showed that R1a lineages in India mostly belong to just three subclades of the R1a-Z93 and they are only about 4,000 to 4,500 years old.
Our response…
R1a lineage indeed shows much diversity in Greater India than elsewhere and that is how its origin was estimated to be in the modern-day Iran. Ancient Indian cultural landscape was spread from modern Iran through modern Bangladesh and this fact can-not and should not be ignored. The fact subclades of R1a-Z93 in India are young is in no way contradicts ancient and indigenous nature of R1a male haplogroup.
3. The third argument was that there were two ancient groups in India, ANI and ASI, both of which settled here tens of thousands of years earlier, much before the supposed migration of Indo-European languages speakers to India. This argument was false to begin with because ANI — as the original paper that put forward this theoretical construct itself had warned — is a mixture of multiple migrations, including probably the migration of Indo-European language speakers.
Our response…
We agree with Mr. Tony Joseph that the classification of Indian gene pool along the lines of ANI vs ASI is on faulty grounds. This has nothing to do with multiple migrations. There were no significant migrations between 50,000 and 2000 years ago.
IN SUMMARY
Nearly all Indians are non-immigrants and negligible input into Greater India (modern Iran through modern Bangladesh), until ~2000 years ago. The migrations into India in the last ~2000 years are well known. Indian gene pool is 50,000+ years old with no substantial input from outside until 2000 years ago. While Mr. Tony Joseph is forced to deal with probable scenarios, evidence from various disciplines of science – archaeology, astronomy, hydrology, climatology, oceanography, linguistics, genetics, has established and continue to re-establish antiquity of Indic civilization, Rigveda (7000 years ago and before), Indic history and Sanskrit, long before the timeline claimed by dogma of AIT (4000 -3500 years ago).
References:
1.Wells, Spencer et al (2001) "The Eurasian Heartland: A continental perspective on Y-Chromosome Diversity" PNAS August 2001 Volume 98 Number 18
2.Metspalu et al (2004) "Most of the extant mtDNA boundaries in South and Southwest Asia were likely shaped during the initial settlement of Eurasia by anatomically modern humans" BMC Genetics 5:26
3.Silva et al (2017) "A genetic chronology for the Indian Subcontinent points to heavily sex-biased dispersals" BMC Evolutionary Biology 17:88
4.Underhill et al (2015) "The phylogenetic ad geographic structure of Y-chromosome haplogroup R1a" European Journal of Human Genetics 23, 124-131
5.Poznik et al (2016) "Punctuated bursts in human male demography inferred from 1.244 worldwide Y-chromosome sequences" Nature Genetics
6.Reich et al (2009) "Reconstructing Indian Population History" Nature Vol 461
7.Moorjani et al (2013) "Genetic evidence for Recent Population Mixture in India" The American Journal of Human Genetics, (http://dx.doi.org/10.1016/j.ajhg.2013.07.006)
8.Underhill et al (2010) "Separating the post-Glacial coancestry of European and Asian Y chromosomes within haplogroup R1a" European Journal of Human Genetics (2010) 18, 479–484
9.Oppenheimer, Stephen (2003) Out of Eden: The Peopling of the world. Constable & Robinson Ltd. UK.
10.Oak, Nilesh N (2011) When did the Mahabharata War Happen? The Mystery of Arundhati, Daphne
11.Oak, Nilesh N (2014) The Historic Rama, Bhima LLC
12.Reich, David, A conversation with David Reich, "The Genomic Ancient DNA Revolution' interview with 'Edge' (https://www.edge.org/conversation/david_reich-the-genomic-ancient-dna-revolution)
Disclaimer: The opinions expressed within this article are the personal opinions of the author. MyIndMakers is not responsible for the accuracy, completeness, suitability, or validity of any information on this article. All information is provided on an as-is basis. The information, facts or opinions appearing in the article do not reflect the views of MyindMakers and it does not assume any responsibility or liability for the same.
Comments