India's Global Agricultural Trade in International Perspective
Accelerating exports of agriculture products, and reducing their import dependence are among the key priorities for india. Agriculture sector's export potential, which is considerable, has in the past not received sufficient policy focus, and has not been approached in an integrated manner. But recently this limitation is being addresses in an energetic and competent manner as India is determined to pursue the external sector as one of the key pillars of Atmanirbhar globalization.
Sharply enhancing India's agricultural exports is also consistent with India's strategy to increase its soft power as it underlines India's abilty to be a reliable and trustworthy supplier of key products needed for food security. India's Atmanirbhar and Be-vocal-for local strategic concepts applied to agriculture are thus designed to enhance India's relevance to the world.
This column examines India's global agricultural trade in International perspective.
Table 1 provides data for 2020 from the World Trade Organization (WTO) Trade Profiles for agriculural exports and imports of India and selected high income and middle income countries. The total exports and imports of countries are for 2019, to which the share of agricultural exports and imports is applied to obtain the figures in Table 1. The 2021 Trade profiles have just been published, but due to covid-19 pandemic induced distortions in global economic activity, they are not used. Broad trends of Table 1 are however not expected to be affected.
International Trade in Agricultural Products (Billion USD)
Country

Exports

Imports

Trade Balance

High Income Countries

USA

169.2

177.2

-8.7

Australia

38.5

16.2

22.3

France

75.2

69.0

6.2

Netherlands

109.2

76.9

32.3

Japan

11.3

80.0

-68.7

United Kingdom

32.3

74.7

-42.4

Spain

58.4

45.4

13.0

Canada

New Zealand

68.4

28.7

40,8

5.2

27.6

23.5

Middle Income Countries

India

38.9

26.7

12.2

Brazil

87.7

12.0

75.7

Indonesia

30.6

20

10.6

Thailand

43.1

17.7

25.4

South Africa

11.8

8.7

3.0

Vietnam

34.9

26.2

8.7
Source: Estimated from World Trade Organization, Trade Profiles 1
The following observations may be made from the data in Table 1.
The three largest global exporters of agricultural products are United states (USD 169.2 billion), Netherlands (USD 109.2 billion), and Brazil (USD 87.7 billion).
The three largest global importers are United States (USD 177.2 billion), Japan (USD 80 billion), Netherlands (USD 76.9 billion). United Kingdom (USD 74.7 billion) is also a major importer.
The three countries with the largest trade surplus in agricultual products are Brazil (USD 75.7 billion), Netherlands (USD 32.3 billion), and Canada (USD USD 27.6 billion).
The above figures suggest that it is the high income countries that are major global traders in agricultural products, and that there is considerable intra-industry trade in agriculture products. The use of agricultural technology and brandingplays a major role in global agricultural trade performance.
Thailand (USD 25.4 billion), New Zealand (USD 23.5 billion), and Australia (USD 22.3) billion also exhibited large surpluses.
India's positive balance of trade was modest at USD 12.3 billion. India hopes to increase this number over next few years.
The largest deficit in agricutual products was by Japan (USD 68.7 billion), and United Kingdom (USD 42.4 billion).
In 2019, India was ranked by WTO as the ninth largest exporter of agricultural products in the world, first time it was ranked among the top 10 countries2.
India hopes to improve this rank further as currently processed and branded agriculture products share is relatively low. But with initiatives such as 22 mega food parks already operational and diversification into fisheries and other areas, as well as efforts at greater market access through technolgy and strategic diplomacy. Share of processed and branded agricultural products, where value addition is higher, is expected to grow.
The Mega Food Park program aims at providing a mechanism to link agricultural production to the market by bringing together farmers, processors and retailers so as to ensure maximizing value addition, minimizing wastage, increasing farmers income and creating employment opportunities particularly in the rural sector.
The Mega Food Park program is based on "Cluster" approach and envisages creation of state of art support infrastructure in a well-defined agri/horticultural zone for setting up of modern food processing units in the industrial plots provided in the park with well-established supply chain.
A Mega Food Park typically consists of supply chain infrastructure including collection centres, primary processing centres, central processing centres, cold chain and around 25-30 fully developed plots for entrepreneurs to set up food processing units3.
There are positive signals that the recent intiatives relating to the agricultual sector are in the right direction. As an example according to the Arab-Brazil chamber of Commerce, in 2020, India became the largest food supplier to Arab nations, overtaking Brazil, a major global agricultural exporter.
Global Supply chain disruptions and India's close geographical proximity to the Arab nations contributed to this outcome. Brazilian shipments to Saudi Arabia that once took 30 days could now take up to 60 days, according to the Chamber, whereas India's geographic advantages allow it to ship fruits, vegetables, sugar, grains and meat in as little as week.
India's developing strategic partnerships with Arab nations such as the UAE and Saudi Arabia, and its domestic initiatives, could continue India's prominence as food supplier to Arab nations.
India is also taking initiatives to reduce the extent of imports of oilseeds, and palm oil which form a large share of its agricultural imports. Thus, India imported 8.5 million tonnes of palm oil in 2021, but is projected to decrease to 8.1 million tonnes due to rising domestic production4.
Absolute size of total exports and imports are also relevant
In analysing a country's global contribution and integation, absolute size of total international trade is also relevant. UNCTAD (United Natons Conference on Trade and Development) estimates that global trade in merchandize and services was USD 25.2 Trillion in 2019. India's total international trade of around USD 1.2 billion is therefore about 4.8 percent of global trade, a non-trivial share.
Table 2 provides estimates of merchandise plus services exports to selected countries for 2021. The following observation may be made from the data in Table 2.
India's merchandise exports are ten times the exports of Bangladesh. No data on service exports are available for Bangladesh. Given this, India's total exports are16 times that of Bangladesh.
China's total merchandize exports are 8.2 times that of India; and those of the United States 5.7 times that of india.In services exports, the gap between India on the one hand and United States, China and Germany is much lower.
India is in striking distance of catching up with merchandize exports of Taiwan. But Vietnam is rapidly closing the gap with India in merchandise exports.
India's total exports, however, remain significantly larger than those of Indonesia, Taiwan, and Vietnam due to services exports. But its total exports remain much lower than those of South Korea, Germany, United States and China.
India's recent initiatives such as the PLI (Production Linked Incentive) schemes for various sectors, including electronics, semiconductors, textiles, telecom equipment, automotive sector and durable household goods are likely to reduce the gap between India and those countries which have much higher exports, and widen the lead with others. These intiatives will also help address overdependence on China-based global supply chain of key products and materials, thereby enhancing India's resilience and relevance.
Table 2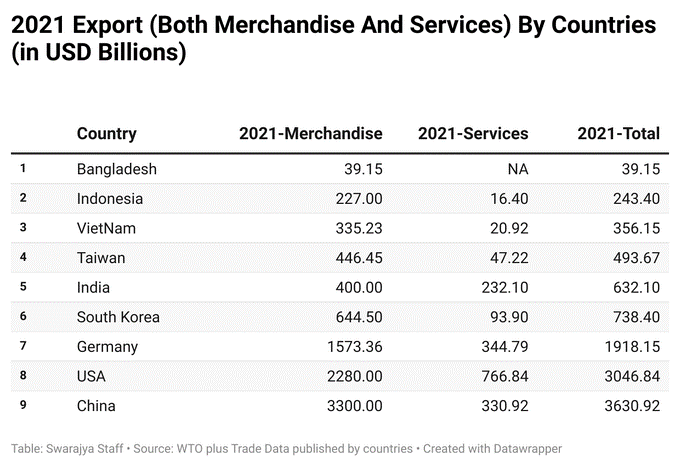 Concluding Remarks
India's recent initiatives in the agricultural sector are expected to enhance its role as an agricutural exporter contributing to food security of significant number of countries as a reliable and trusted economic partner. While India usually exhibits large overall merchandise trade deficit (it was USD 162 billion in 2019), it exhibited a trade surplus of USD 12.2 billion in 2019 in agricultural products. The prospects are for this surplus to become larger due to recent policy initiatives designed to make an external secor one of the important pillars of Atmanirbhar globalization.
The column has alo argued that absolute size of global trade of a country should matter in assessing country's contribution to and integration with the global economy. In 2019, india's global trade share at 4.8 percent was indeed non-trivial, and there is room for optimism that India's share will exhibit a rise.
Image source: The Financial Express
Disclaimer: The opinions expressed within this article are the personal opinions of the author. MyIndMakers is not responsible for the accuracy, completeness, suitability, or validity of any information on this article. All information is provided on an as-is basis. The information, facts or opinions appearing in the article do not reflect the views of MyindMakers and it does not assume any responsibility or liability for the same.
Comments