Here is what Ramnath Kovind is accused of by the Liberal Elite
It's been a couple of days since Amit Shah announced the name of Shri Ramnath Kovind as NDA's candidate for the post of President of India. Since then the English media went into a tizzy. Leading the way was The Wire, edited by the controversial journalist Siddharth Varadarajan.
Let's begin with their most popular and profound analysis – "Kovind's past as a defense witness in the Bangaru Laxman corruption case is at odds with the BJP's official position on corruption."
The basis of this conclusion is evident from their headline below: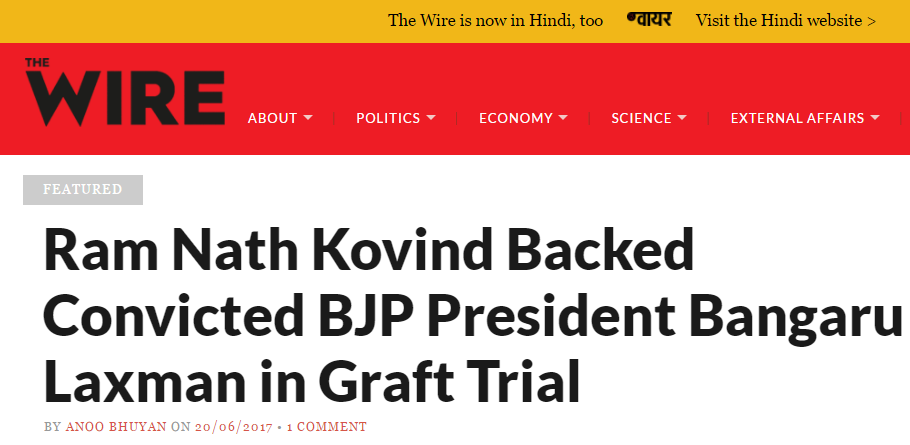 This news item was used by Congress handles, extensively on social media. Let's take a look at what Shri Ramnath Kovind actually said (I didn't have to do any research for this. I just had to bother to read the links provided in the article!).
"He deposed that he knows Bangaru Laxman for last 20 years." (Shocking!)
"He deposed that Bangaru Laxman is a straight forward, simple and honest person, who became President of Bhartiya Janta Party." (It this this line that the gang is picking up! What is wrong in this – is it such a horrible thing to assume that many members of the BJP saw Bangaru Laxman as simple and honest?)
"He deposed that in the meeting of National Executive held in January 2001, Bangaru Laxman had delivered presidential speech." (Shame on Ramnath for mentioning this fact!)
"He deposed that he had met Bangaru Laxman, who told him that he was framed." (So merely repeating what was told to him, meant "backing"?)
"On being cross examined on behalf of Ld.Special PP, this witness stated that he does not know as to whether Bangaru Laxman had accepted a consideration of Rs.1 lakh."
"He denied the suggestion that after the telecast, a meeting was held of Senior BJP Leaders and as damage control exercise, it was decided that this amount should be shown as party fund." (He denied! Yet another sure shot way of knowing he "backed" Bangaru Laxman.)
How does merely appearing as a defense witness, and stating general facts and an even more generic opinion on the nature of a person, amount to being "at odds" with official position of the party? It is one thing for political parties to put forward such childish arguments, but for the media to go overboard is amusing.
Not happy with a mere court appearance, The Wire brings in a bigger fish – WIKILEAKS!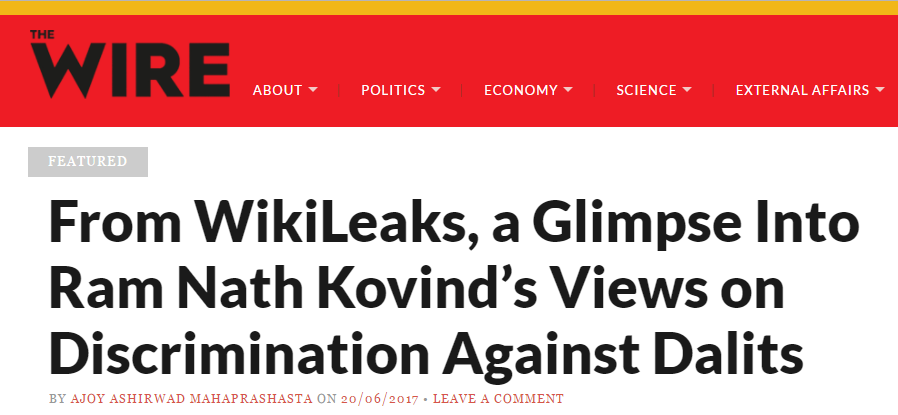 The author of this piece in The Wire reaches an awesome conclusion based on these "wikileaks" – "Kovind toed the the Sangh parivar's political line, which prefers reforms in the caste hierarchy as entrenched in the Hindu puranic system, instead of a complete annihilation of caste as advocated by Indian leaders like B.R. Ambedkar."
Ramnath Kovind toed the Sangh parivar's line! Shocking that a member of the Sangh parivar will toe the line of the Sangh Parivar!! Stop the presses immediately, we have the biggest breaking news ever!
Wikileaks, are documents written by US officials, to their higher officials in hierarchical chain. Let's see what they have to say about what Kovind's views are:
Ram Nath Kovind, himself a dalit and a BJP MP from Uttar Pradesh, expressed a more positive view, stating that "open" discrimination against dalits has decreased dramatically over the last decade, while the number of persons who genuinely care about helping dalits has increased.
…that current legislation has to a large degree been successful in protecting dalit rights, but that India still has work to do to end discrimination, citing increasing dalit access to primary education as a place to start.
…commented that the true basis of discrimination is economic in nature rather than caste-based, as the "haves discriminate against the have nots" and use the caste system to perpetuate differences between economic groups.
Caste factors are now used to protect jobs and livelihoods more than anything else
Kovind predicted that caste-based discrimination will exist for at least the next 50-100 years in India.
He suggested that since the Hindu religion condones caste, it will take longer for the GOI to end caste discrimination in India than it will take to eradicate racial discrimination in the US.
Kovind stated that the BJP favors reservations in the private sector and will pressure the UPA government to institute them.
.
One would assume that the gang might pick up the last argument – the BJP favors reservations in private sector! Instead, all they chose to focus is that Kovind's views match with Sangh parivars'. And if the above arguments are indeed Sangh Parivar arguments, can someone please enlighten as to what is exactly wrong in them? (Except of course the reservation in private sector).
Actually, The Wire started their series of articles with the this heading: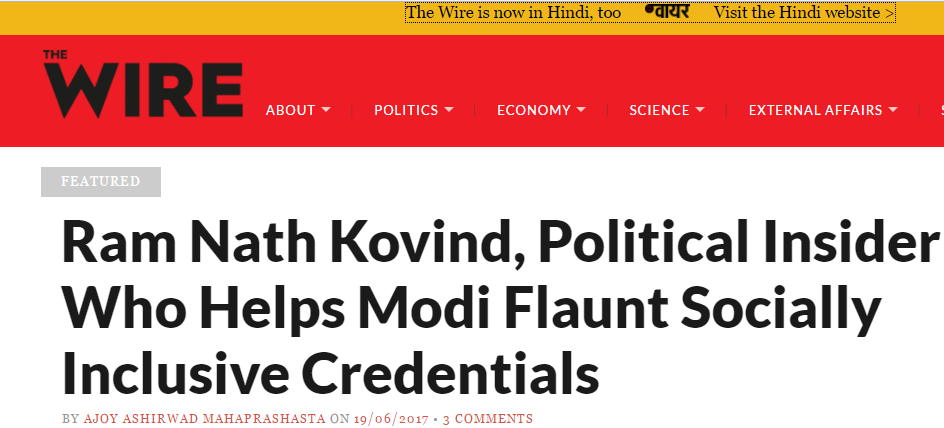 Oh boy, the language! Modi must flaunt "socially inclusive" credentials – what kind of days have befallen on us, that Prime Minister who himself has risen to position from acute poverty, has to find somebody to "flaunt socially inclusive credentials"! We are also told that – "in 2010 he was quoted by IANS as saying Modi was a "law-abiding chief minister" and the party "was proud of him" –". What is this with Ramnath Kovind toeing the party line every time he speaks? Surely such a bad quality to possess!
And as usual, they also use the garb of "sources" to say whatever they want. Sample this – ""He has proved himself to be a pliant man in the party, something which the Union government wants in the top constitutional post," said the BJP leader, who did not wish to be named." So, for all that we know, this is the author's view and he might be simply dramatizing it!
All that the media has could find on Shri Ramnath Kovind is that he deposed as a witness; a mis-quotation, and mention of his name in wikileaks documents!
Through Social media we also came to know now that the English media never wanted to take any byte from Shri Ramnath Kovind.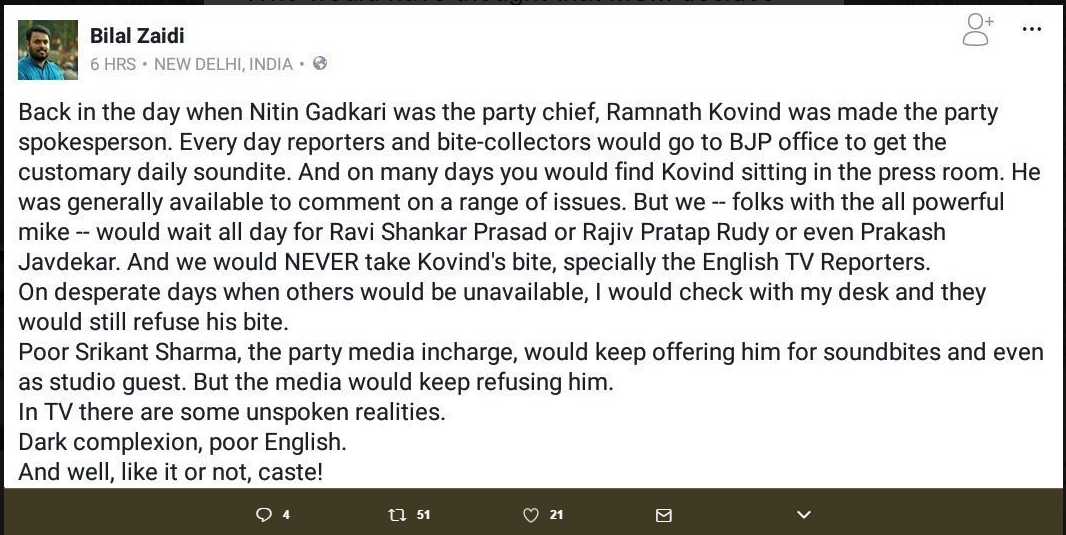 If these are his only shortcomings in all these years of public life, then Prime Minister Modi must be commended for making an excellent choice for the President of India!
Disclaimer: The opinions expressed within this article are the personal opinions of the author. MyIndMakers is not responsible for the accuracy, completeness, suitability, or validity of any information on this article. All information is provided on an as-is basis. The information, facts or opinions appearing in the article do not reflect the views of MyindMakers and it does not assume any responsibility or liability for the same.
Comments