Congress launches a shameful attack on PM Modi in a video and ends up exposing themselves
The vitriol that flows in from various social media handles of the Congress doesn't need introduction. However, on January 14th, the official twitter handle of the Congress party, INCIndia, surpassed all the vitriol and abuse that these handles have so far generated.
When you meet a friend, one of the first things you do is hug them. No one around you will even bother about reading anything into that friendly act. Prime Minister Narendra Modi, while meeting world leaders, often greets them with a firm handshake and hugs them to either warmly welcome to India or to warmly extend thanks for hosting him.
Earlier, Rahul Gandhi took cheap potshots at Narendra Modi when an apparent decision of the Trump administration went against India's interest. On January 14th, on the day Israel's Prime Minister Benjamin Netanyahu was visiting India, the Congress party released a video trying to ridicule what they termed as "Hugplomacy". And in this cheap attempt, they have made vulgar insinuations against India's Prime Minister and totally outclassed their fellow trolls.
The video begins with telling us that "It's official. Modi is awkward".
And pray why does the Congress party led by Rahul Gandhi think so? They show two instances - one of a slight confusion on a handshake with the German Chancellor, Angela Merkel; and two, of where the wife of Japan's PM should stand. If you think it is baffling that the Congress party is clutching at such mundane things, then brace for what they done further!
I am not making up any of this. These are screen shots from an actual video released by the Congress party led by Rahul Gandhi.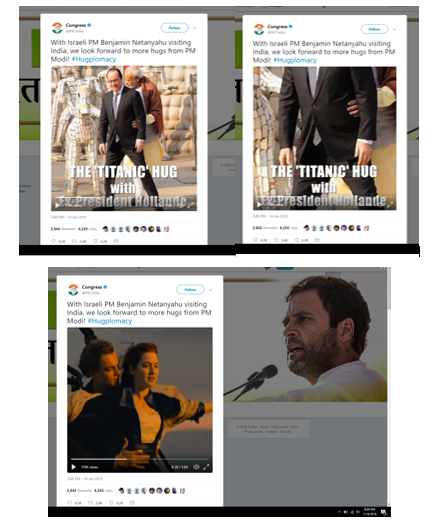 Words fail me to express any outrage at this vulgar insinuation. Is this what is expected from the Congress party? Will the English media, which goes gaga over Rahul Gandhi for every small thing he does, garner the courage to question him on why he and his party have such a perverse thought process?
However, even at this point, the vulgarity doesn't stop. Looks like there are really no depths that the Congress cannot plunge to.
I am sure you didn't believe me that there is really no depth that the party cannot plunge into. Is this video giving us a sneak peak into Rahul Gandhi's thought process? Does he view these acts of warmth from the lens of sexual innuendos only? Remember how Rahul Gandhi did that drama of suspending Mani Shankar Aiyer from the party, just before the elections? This video is a bigger insult to the office of the Prime Minister of our country. Will anybody from the English media even bother to question him about this perverse strategy?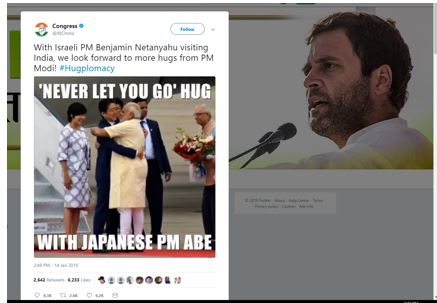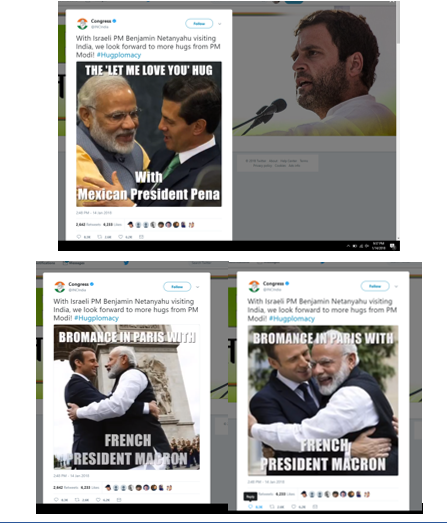 Notice how every hug is further zoomed into, to insinuate a sinister motive. It's as if someone at the Congress office suddenly learnt how to zoom in and zoom out in video clips, and started to experiment. What better way to experiment than throwing cheap shots at India's Prime Minister?
Perhaps hugging someone out of affection; hugging someone out of warmth; hugging someone to show compassion – these things are alien to the likes of Rahul Gandhi. The vast majority of Indian people find these acts quite natural and don't feel ashamed of it.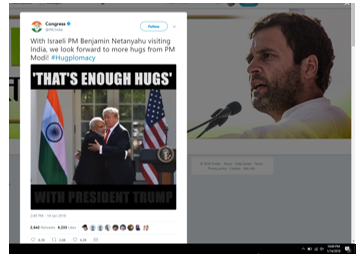 Guess what, dear Rahul Gandhi. The people of this country are also telling you – "That's enough"! If you are prone to search for such innuendoes and vulgarity in various actions of the country's Prime Minister, then it is time to visit a counsellor to help get rid of these thoughts. After that, it is time that you stop percolating your thought process downwards into those who handle the social media accounts.
I wish to apologize if the tone of this article sounds angry and the flow, out of place. It is really bothersome that a party that has ruled India for 60 years can go to any extent to defame the country, merely because their President (and his family) detest the man holding the office of Prime Minister. The video has further reinforced why a CongressMuktBharat is a necessity. Now than ever before.
Disclaimer: The opinions expressed within this article are the personal opinions of the author. MyIndMakers is not responsible for the accuracy, completeness, suitability, or validity of any information on this article. All information is provided on an as-is basis. The information, facts or opinions appearing in the article do not reflect the views of MyindMakers and it does not assume any responsibility or liability for the same.
Comments