'Being Hindu doesn't make me intolerant': Rashmi Samant who quit as President-elect of Oxford student union after Hinduphobic slurs from faculty
In a recent development, unified voices have been springing up in solidarity with Rashmi Samant, the Oxford student who was forced to resign from the post of president-elect of Oxford University Student Union on February 17.
Within two days of her winning the election, her old posts were circulated on social media platforms that led to her defamation among her peers in the University. She has been a victim of bullying, nasty threats and insulted for being a Hindu.
Among all the insensitive remarks and racial slurs that were hurled at her, she has been accused of being "racist", "anti-Semitic" and "transphobic".
Rashmi Samant hails from Udupi, Karnataka, a graduate student pursuing MSc. at Linacre College, had recently made it to the headlines after being elected as the first female Indian president of Oxford University Student Union.
Samant, who had received 1,966 of the 3,708 votes cast for the post, had been emphasizing the need for greater "decolonization and inclusivity" on campus in her campaign for the Oxford SU leadership election held on February 11 this year.
The Times of India in their report quoted Samant in an interview at the Heathrow airport last month as saying that she was not a terrible person and it was unfair to judge her on the basis of old social media posts after she was accused of being "racist", "anti-Semitic" and "transphobic". "I do not hate any community… Everyone thinks I am a terrible person and I am not. I have friends in all these communities and I love them. I was a totally different person five years ago. People don't realize until it happens to them," she said.
In a blog post, she wrote: "I wish to ask a question to all who termed me insensitive and racist citing my social media posts of the past. Are you being sensitive when you judge a person's worth based on social media captions of a non-native English-speaking teenager that were posted years before the person formed convictions on issues of race? Let me reiterate this: those posts are not a reflection of my hatred towards communities. They were the posts of a teenager who just had access to the world of social media. I again reiterate my apology to those genuinely hurt for my ignorance but not to those with malicious intent targeted me on 'insensitivity'."
In complete insensitivity, one of the Faculty members at Oxford, identified as Dr Abhijit Sarkar posted a ghastly Hinduphobic post targeting Samant.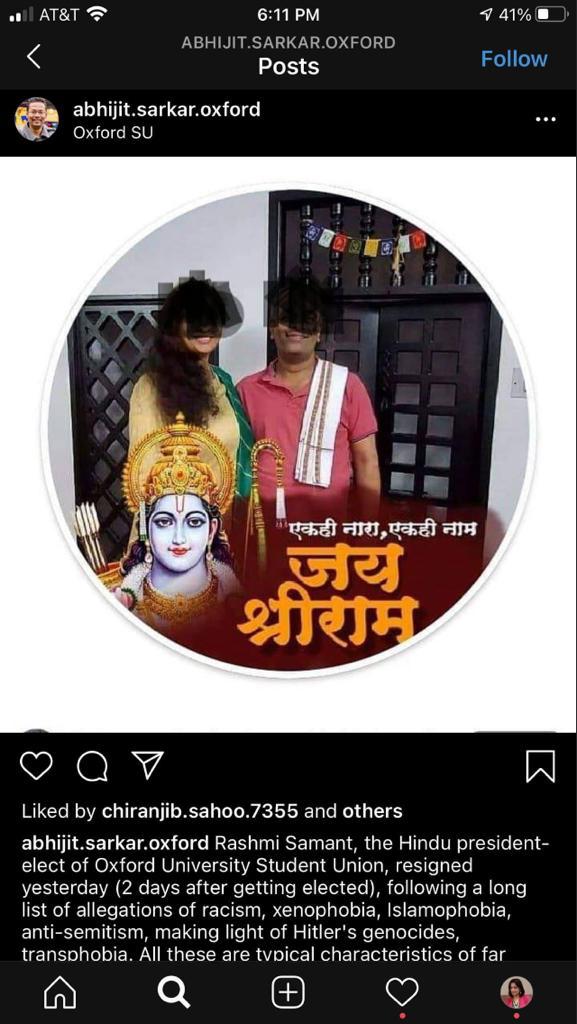 In his long post against Samant on Instagram, he exposed his Hinduphobic nature when he stooped on such lows saying that a follower of Sanatana Dharma should not be allowed to become the leader of the student union.
Sarkar jibed at Rashmi of being Islamophobic by alleging that she came from coastal Karnataka, which the faculty member termed as "a bastion of Islamophobic far-right forces".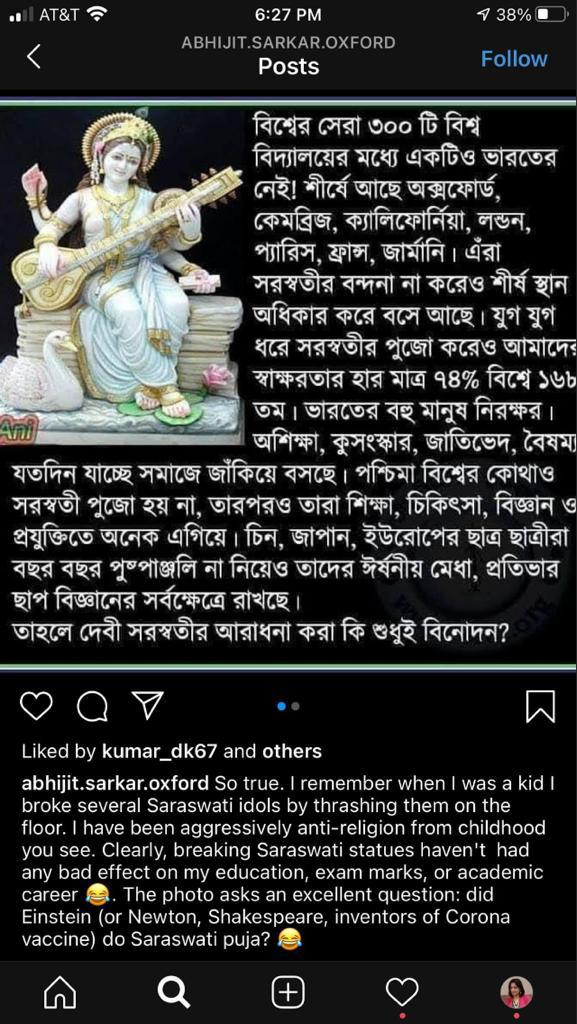 "…Far-right Desi forces hate White people and Western modernity because they want to reinstate Sanatana Hindu "culture" with its inherent caste-based tortures and the most violent form of patriarchy. Of course, they are always ready to destroy statues of non-Hindutva people, be it Muslims or Christians or liberal Hindus," his Instagram post read.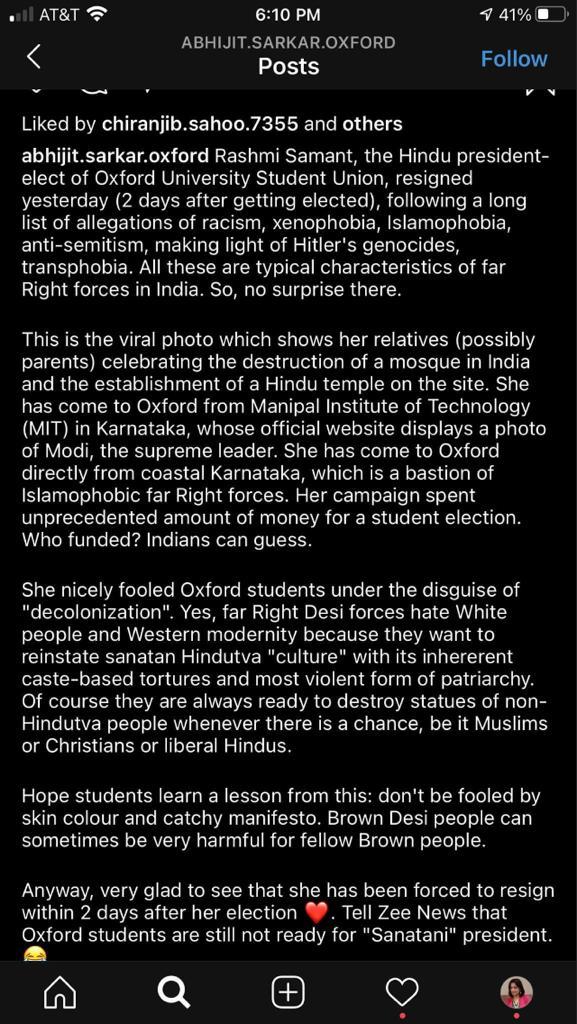 Netizens have come out in unison to wage the righteous war against Sanatana Dharma and Hinduphobic elements like Sarkar. The hashtag #DismissAbhijitSarkar which is trending on Twitter was shared in large numbers urging the Oxford University to sack this vile person.
Image courtesy: Twitter
Disclaimer: The opinions expressed within this article are the personal opinions of the author. MyIndMakers is not responsible for the accuracy, completeness, suitability, or validity of any information on this article. All information is provided on an as-is basis. The information, facts or opinions appearing in the article do not reflect the views of MyindMakers and it does not assume any responsibility or liability for the same.
Comments