At this refugee camp you see only smiling faces – The Story of Hindus from Pakistan
It was the last day of my India trip; I wanted to spend the whole day packing my suitcases and taking breaks only to have the delicious food my mom-in-law was cooking, just for me. Suddenly, I saw a text message from my friend in America. He asked if I would like to visit a refugee camp, housing Pakistani Hindus in Delhi. I told him there was no time; I had a flight to catch on the next day and I hated Delhi traffic. "But, it's hardly a few miles from your house in Ashok Vihar," he said. That did it. I had to check out this refugee camp so near my house that I knew nothing about.
I called an Uber and alighted near Majlis Park Metro Station. The caretaker of the refugee camp named Hari Om Sahoo was waiting for me and he drove me on his scooter. The camp turned out to be a bunch of makeshift dwellings with children running around and women going about their household tasks. Some children were studying in a classroom. I was informed that the men were away working at a factory.
As I probed deeper into the stories of the families who were at the camp, a very disturbing picture emerged of oppressed minorities in the Islamic Republic of Pakistan. As many of us know, when India got independence from the British rule, one chunk broke off from the mainland India in order to maintain Islam as the state religion. It called itself Pakistan to signify it was the land of the pure. The leaders of Independent India, however declared their intent to be inclusive towards all religions. While most Hindus crossed over to India, some families stayed behind in Pakistan because they did not want to leave the land where generations of their ancestors had lived. Over a period of time, however, the Hindus in Pakistan began to be increasingly persecuted.
"Their young girls were kidnapped, raped, and converted to Islam," said Hari Om. "Even if Pakistan as much as lost a cricket match to India, they would vent their frustration on the Hindus – sometimes beating up the men or carrying away a girl," he revealed. As a result, a steady stream of traumatized Hindus is leaving Pakistan and seeking asylum in India. Many of these Hindus belong to Sindhi or Gujarati communities, but there is a sprinkling of other ethnicities.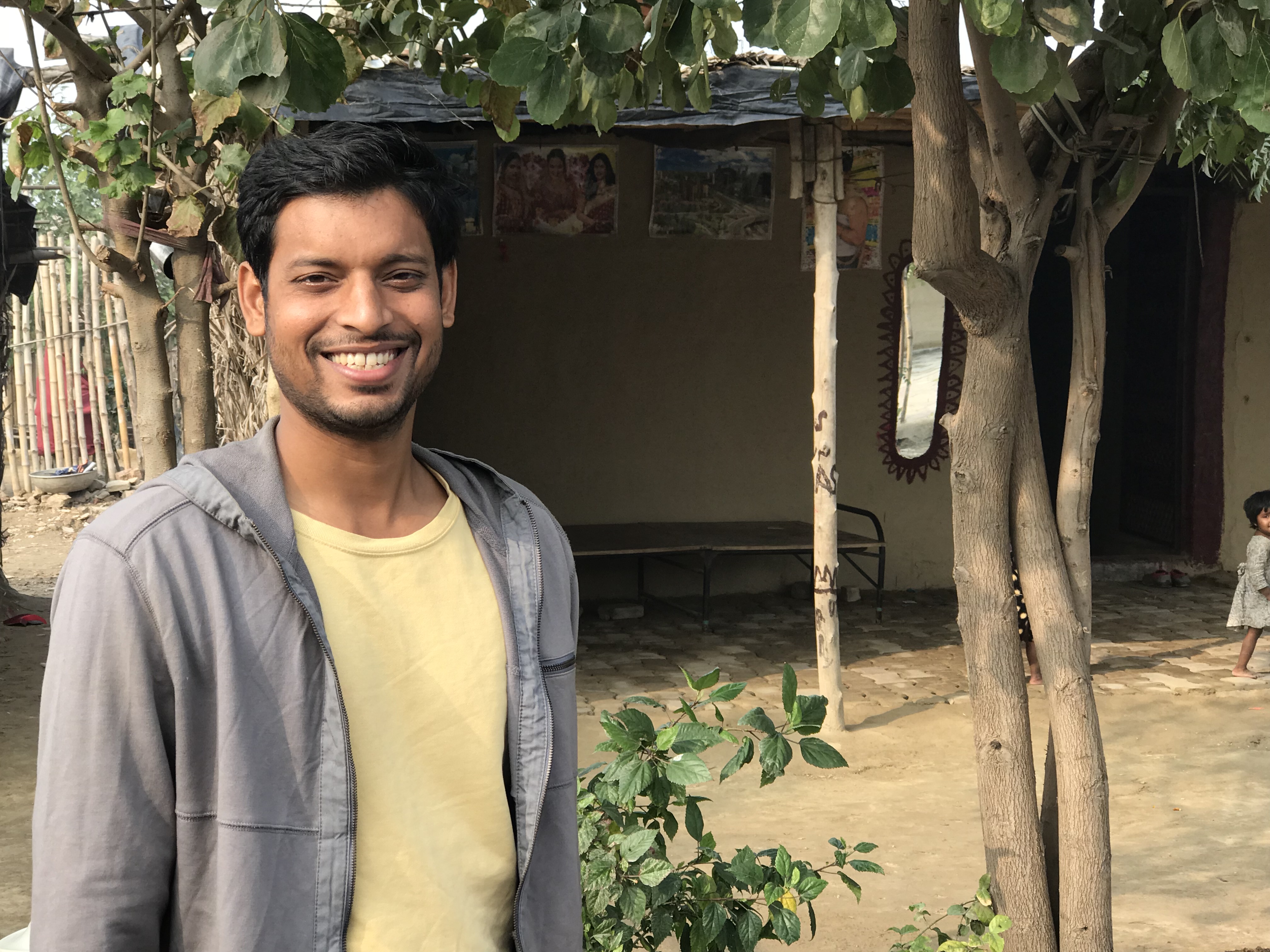 Hari Om Sahoo, the caretaker of Adarshnagar camp
As I walked around the camp, I noticed that the women were wearing colorful costumes which were typical of their ethnicities. The houses were neat with minimal possessions. Little altars carried pictures of Hindu gods and goddesses in front of which were placed offerings of flowers and incense. "As soon as they manage to reach our camp, they give me whatever little money they have and ask how soon they can make pilgrimages to the famous temples in India," informed Hari Om.
"Why did you not convert to Islam and continue to live in your ancestral land?" I asked one woman.
"How could I give up my Gods?"
Such a simple answer, which conveyed such a depth of faith.
I could feel tears welling in my eyes. No one had ever stopped me from practicing my religion whether I moved to Singapore or America. I had taken it so much for granted. My faith had never been tested like these people.
"Do you miss your family left behind in Pakistan?" I asked another woman.
"Yes, I miss my sons," replied. "They made me leave with my daughters as soon as we got our passports. It was just not safe for us. I wish they could also come here."
I handed over all the soaps, toothpaste, and other toiletries I had carried for the refugees. "Winter is coming; we need blankets, cardigans and other woolens too," said Hari Om, the caretaker. I promised to tell my friends to donate.
I looked at the colorful embroidered bedcovers being used in many of the huts.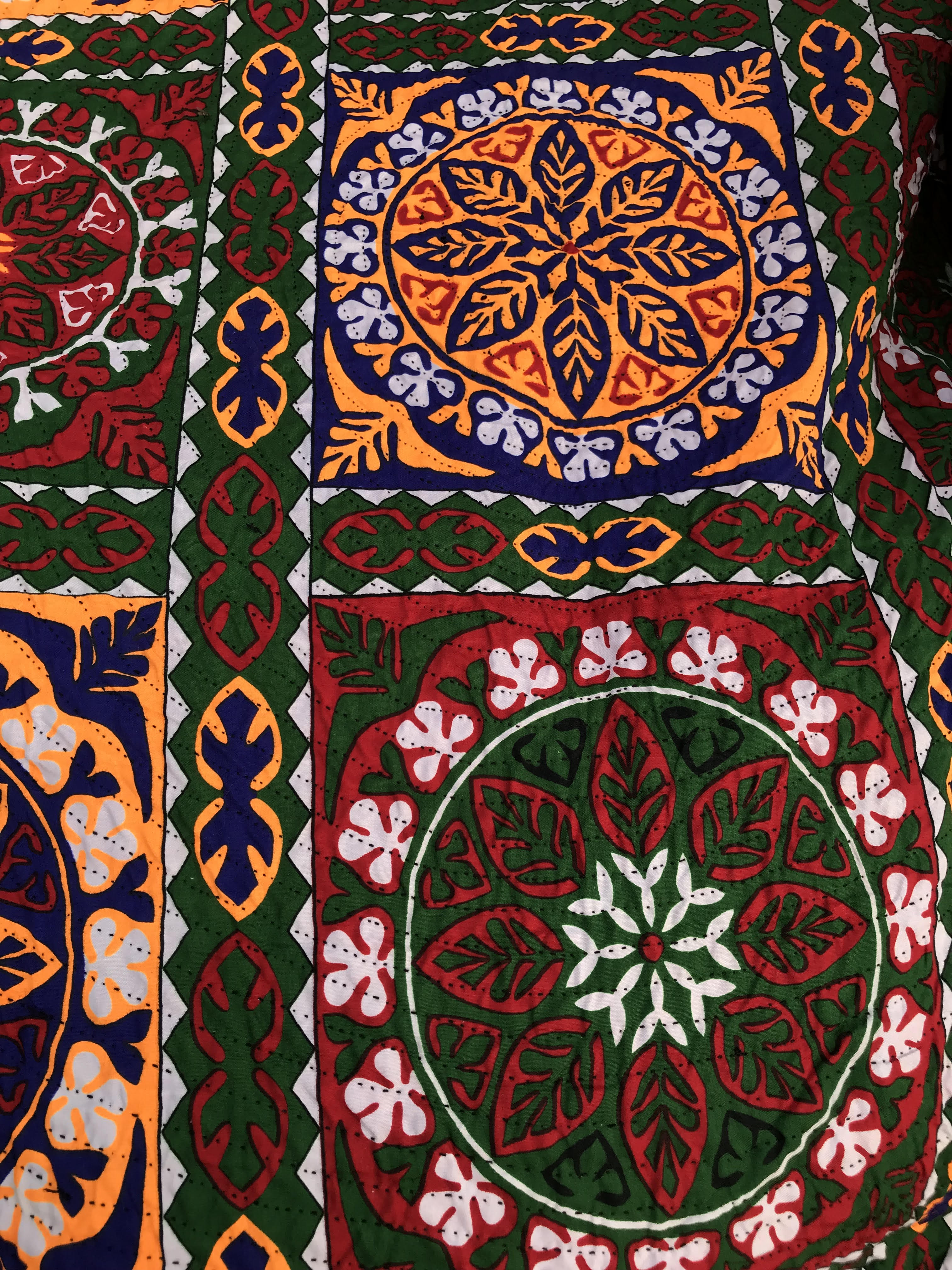 A quilt embroidered by ladies in the Adarshnagar camp
"People would love to buy these bed covers if they come to know they are made by refugees from Pakistan," I remarked.
"I don't want people to buy these just because they are made by refugees," said Hari Om. "I want them to buy because they are good."
It struck me that here was a caretaker who did not merely care for the physical necessities of the people he was responsible for. He cared for their pride.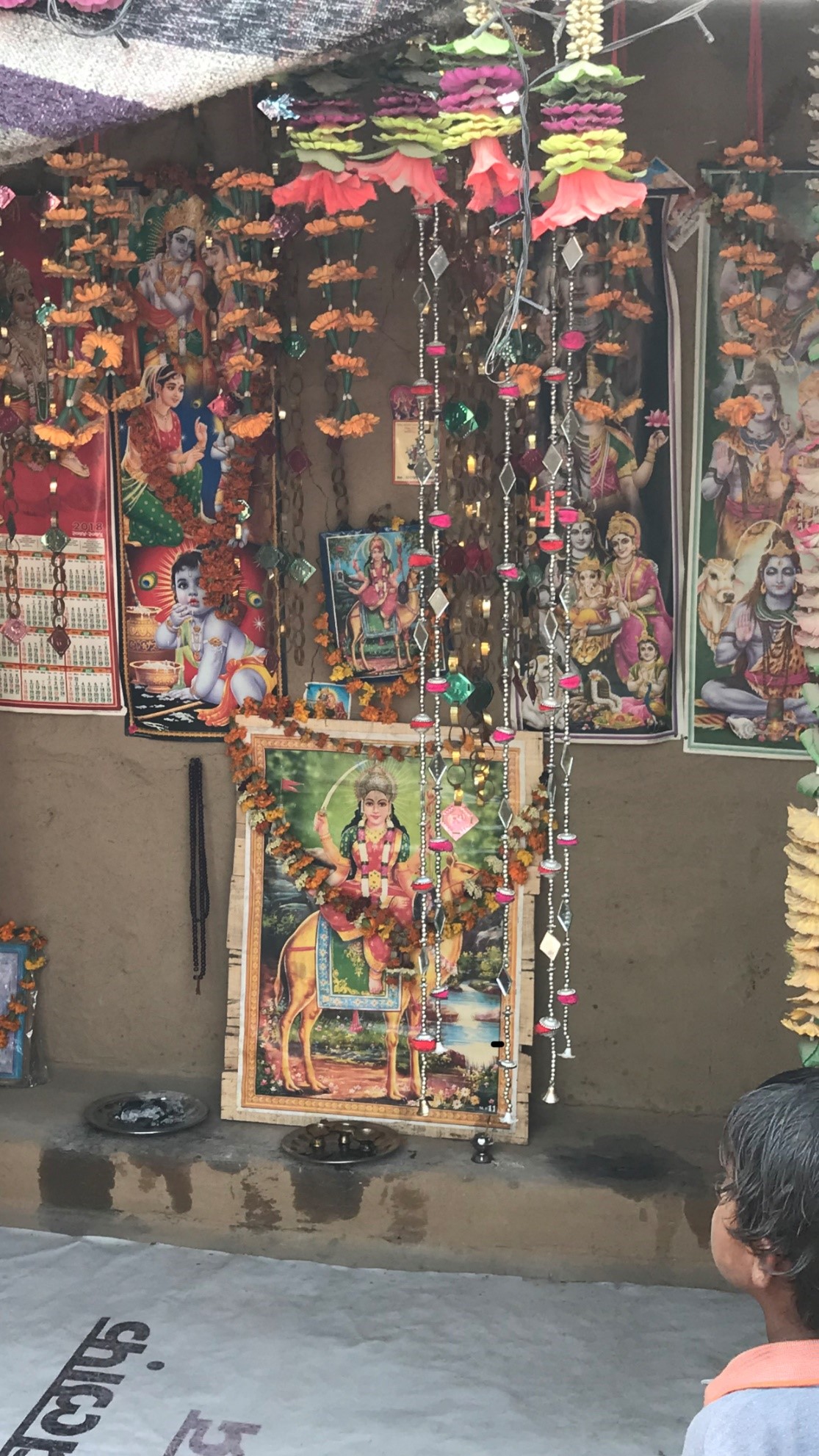 One of the many mandirs built by the inmates of the Adarshnagar camp
I asked if any of the little girls could sing a song for me. One girl called Jamuna was called because she was the best in singing. "Raghupati Raghava Raja Ram," she started. To my surprise, she sang the rest of the famous song in a different tune and even the lyrics was not at all familiar. It dawned on me that these people had preserved the original lyrics and tune of the song in Pakistan while we had lost them in India.
I had always imagined a refugee camp to be a miserable place. But this one had smiling faces everywhere.
"Are you happy here?" I asked a young mother.
"We had a nicer house in Pakistan. Here, we have mosquito and electricity issues. But I do not have to worry that someone will ask me to change my religion. I feel free here."
NOTE: Fundraising efforts are on to help the inmates of Adarshnagar camp to celebrate Navratri and Diwali in a grand way. They have never celebrated these festivals freely in Pakistan. To contribute, please visit https://www.ishwarsewa.org/donate
Picture Credits: Sahana Singh
Disclaimer: The opinions expressed within this article are the personal opinions of the author. MyIndMakers is not responsible for the accuracy, completeness, suitability, or validity of any information on this article. All information is provided on an as-is basis. The information, facts or opinions appearing in the article do not reflect the views of MyindMakers and it does not assume any responsibility or liability for the same.
Comments