Analyzing the 2019 Lok Sabha Numbers Closely: How the BJP crossed 303 on it own- Part 3
In Part 1 & Part 2 of the deep dive on the 2019 Lok Sabha elections we had looked at the seats won, vote share, the no. of states & seats where the parties/alliances had won >50% of the vote share, region wise performance, deposits forfeited, win margin%, position of the various parties etc. Here in Part 3 I will focus on some key individual states & how the various parties/alliance fared.
Uttar Pradesh:
Uttar Pradesh the biggest state, which sends 80 MP's to the Lok Sabha in 2014 saw a virtual sweep for the NDA (BJP 71 seats + Apna Dal 2 seats). This time around BJP managed to win 62 seats while its ally Apna Dal won 2 seats. The much hyped pre poll alliance between BSP & SP could just win 15 seats: BSP which drew a blank last time around won 10 seats while SP won 5 seats (same as last time). INC which five years ago had only won in its pocket boroughs of Amethi & Rae Bareilly, this time won Rae Bareilly but lost Amethi.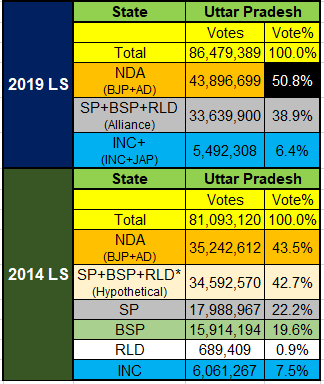 The much heralded entry of Priyanka Gandhi Vadra (who was called by some as "Brahmastra" came up as a cropper. This election has seen a further decimation of India's grand old party in India's largest state. Considering the already experienced lows of 2014, this would come as a rude shock to many in the party that it has done worse on many counts for 2019 vs 2014.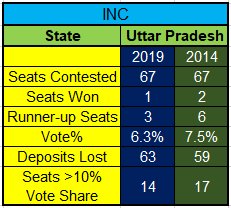 While contesting the same number of seats as last time (67) INC lost deposits in 63 seats (vs 59 in 2014). They ended up being the runner up in just 3 seats compared to 6 in 2014. INC vote share declined from a 7.5 to 6.3%. (Note: Its small ally Jan Adhikar Party added a tiny 0.1% vote share to make the combo's overall vote share 6.4%). They were able to crack the double digit mark in terms of vote share % (i.e. >10%) in just 14 seats (vs 17 in 2014).
The entire opposition has now dealt with a 3rd straight comprehensive loss at the hands of the BJP in just 5 years (2014 LS, 2017 VS, and 2019 LS). The question asked by many was that if INC (along with its tiny partner Jan Adhikar Party: JAP) had joined forces with SP+BSP alliance what would have been the outcome? We know that there is not a perfect vote transference between various partners. SP, BSP & minor partner RLD fighting separately in 2014 got a combined 42.7% vote share. However in 2019 the combined vote share came down to 38.9% (i.e. a ~9.7% relative decline vs 2014).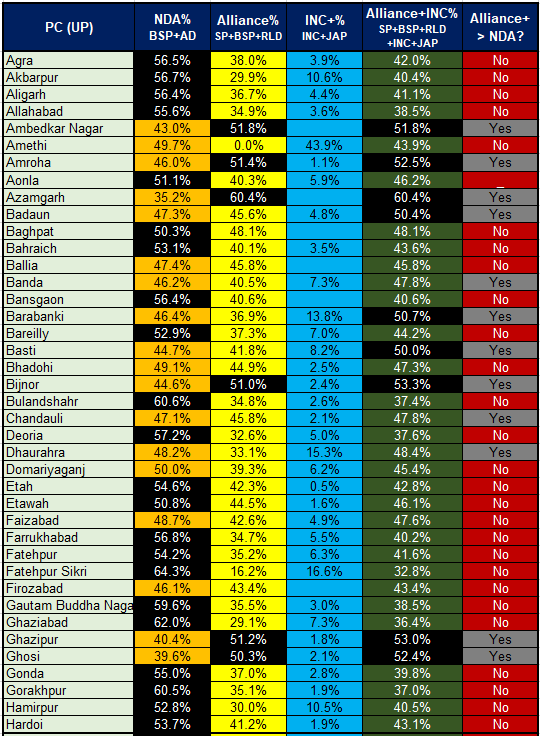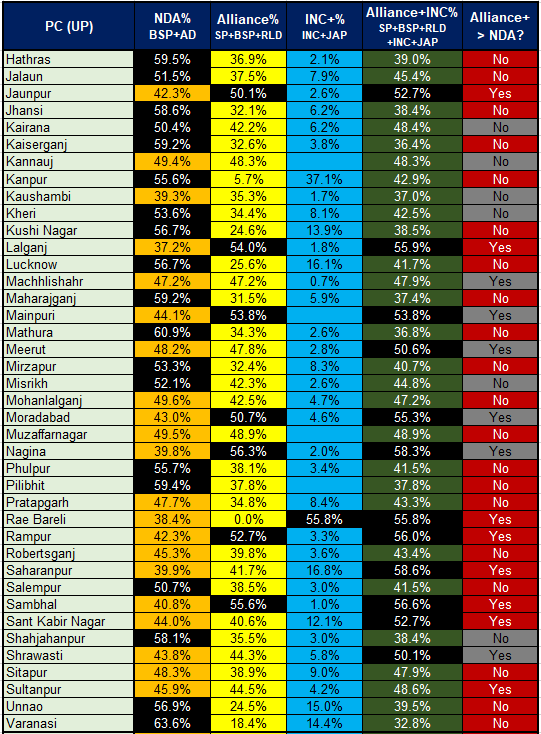 Assuming a 100% vote transference between INC & the SP+BSP+RLD Alliance, it would result in loss of 10 more seats for BJP & its ally AD. This would have in theory still ensure that NDA won a lion's share of seats in Uttar Pradesh (i.e. 54/80) while leaving only 26/80 for this combined opposition.
Maharashtra:
BJP led NDA alliance repeated their 2014 performance in the 2nd largest state (in terms of seats) by again winning 41/48 seats. UPA won 6 seats while AIMIM won the remaining one seat.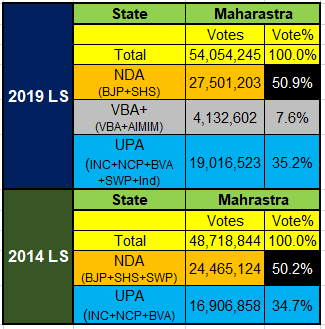 BJP with its partner Shiv Sena again captured 50+% of the vote share while UPA vote share was again ~35%. UPA supported an Independent candidate Navnit Rana from Amravati constituency (who won) & also added former NDA ally Swabhimani Paksha in its alliance but that didn't add much more to the alliance. The opposition did put a fight but some of the opposition vote went to the Vanchhit Bahujan Aghadi (a new party which was formed in early 2018) also known as VBA. VBA fought on 47 seats leaving 1 for AIMIM & drawing 7.6% of the vote share. Some opposition INC & NCP leaders have privately confessed that VBA ended damaging the UPA alliance costing the UPA seats in a few places. So if VBA had joined the UPA alliance & seamlessly transferred their votes to the combined opposition what would have been the case then?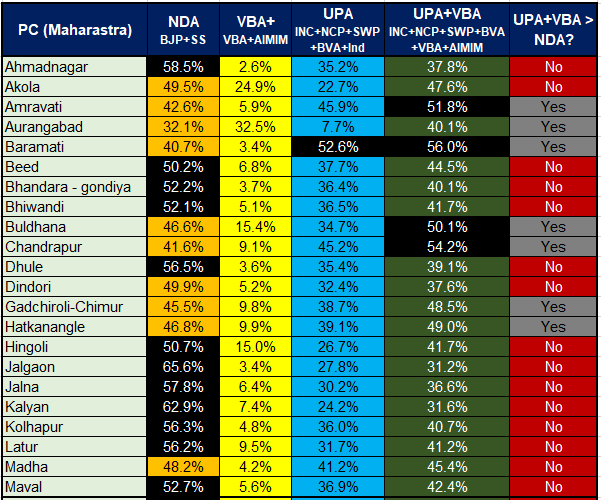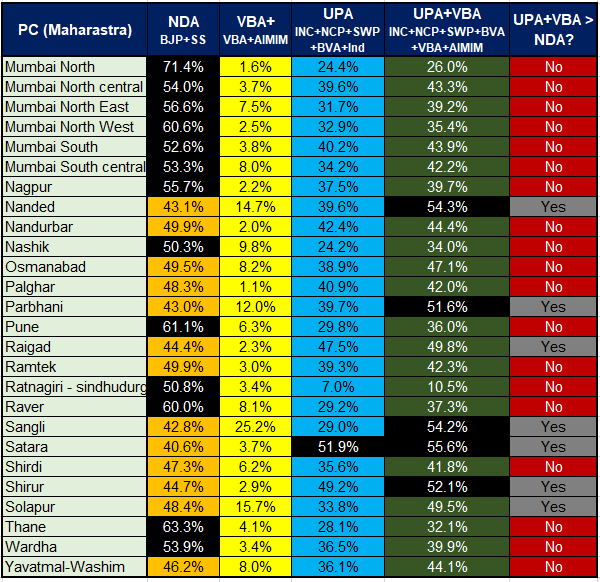 This UPA+VBA combined alliance would have netted 7 more seats (i.e. opposition would win 14 instead of 7 seats). The loss of 7 seats for NDA still would have ensured a very healthy net of 37/48 seats for them in Maharashtra.
Delhi:
Back in 2014 BJP did a clean sweep of the 7 seats in Delhi in a three cornered contest vs INC & Arvind Kejriwal led AAP. To beat the BJP there were several round of talks between the 2 primary opposition parties to seal an alliance. After countless days of "will they / won't they" drama they ended up fighting alone. BJP bettered its 2014 performance by increasing its vote share from 46.4 to 57.3%. This massive ~11% increase in vote share % is impressive considering that this is a three cornered contest & it is in a state where BJP is not in power at the assembly level.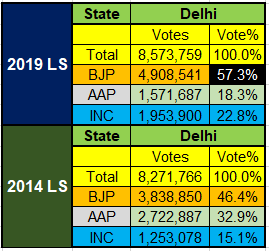 The margins of victory in all seven seats for the BJP are so humongous that even adding up the INC & AAP votes wouldn't result in any different outcome for the opposition.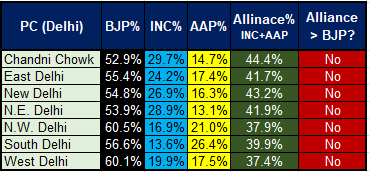 Chhattisgarh, Madhya Pradesh & Rajasthan:
Just 5 months ago in December 2018, Chhattisgarh, Madhya Pradesh & Rajasthan went to assembly polls. The incumbent BJP government ended up losing all 3 states to the INC. After winning the assembly polls INC had hoped to make serious gains in these 3 states where they ended up winning only 3/65 seats in a bipolar contest with the BJP in 2014. There have been numerous case studies to show that when national & assembly polls are held within 6 months most likely the results have strong correlation for the winner. However the results shocked even the most ardent BJP supporters when BJP repeated its 62/65 performance.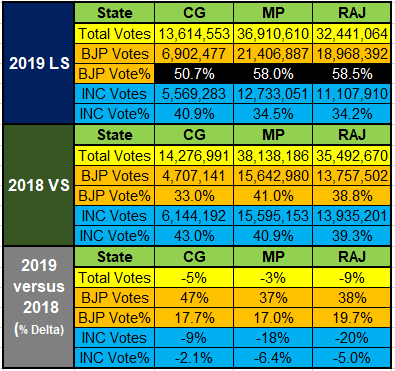 BJP ended up with 50+% vote share in all 3 states winning all but 3 seats. Even though the number of actual votes cast were ~5 to 10 % lower in 2019 Lok Sabha vs 2018 Vidhan Sabha (Assembly) polls, BJP increased its raw votes by a astounding ~37 to 47% margin. This coupled with ~10-20% fall in INC votes doomed its chances in these 3 states where they had won just a few months ago.
Karnataka:
Karnataka was another key state that went to assembly polls just over a year ago in May 2018. BJP while winning the most number of seats fell short of the majority mark. INC in order to keep BJP away from power decided to form an alliance with regional party JD(S). Despite several hiccups the alliance managed to last until now & decided to fight the 2019 LS together in an alliance. On paper looking at the 2018 VS (Vidhan Sabha) results the alliance had a formidable 56.7% vote share. However as seen in many other cases the chemistry didn't exactly work out well & the BJP routed the alliance by winning 25/28 seats (+1 for an Independent supported by BJP). INC & JD(S) were left with one seat each. Compared to just a year ago BJP turned the tables on the Alliance by winning a massive 51.4% of the vote.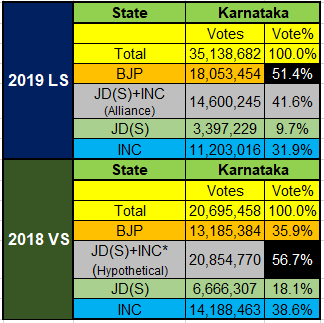 Telangana:
TRS chief & incumbent CM K.C.R. in late 2018 dissolved the Assembly 6 months ahead of schedule. This triggered Assembly elections in the state which were held together with Madhya Pradesh, Chhattisgarh, Rajasthan and Mizoram in end of 2018. TRS romped home in a landslide winning ~4/5 majority decimating all the opposition parties. TRS was looking forward to a repeat performance in the 2019 LS polls to capture the maximum number of seats which could then useful as a bargaining chip in case of a hung parliament. What happened on May 23 was kind of a setback for the TRS as they could only win 9/16 seats. BJP snatched away 4 seats & the INC won 3 other seats. INC vote share % at 29.5% was a little higher than the 28.4% that they won in the assembly polls last year. BJP on the other hand had a huge 2.7x increase in vote share % from 7 to 19.5% allowing them to win the 4 seats. Interestingly the TDP which contested in the assembly polls chose to not contest in the Lok Sabha polls. This meant that the 3.5% vote share that the TDP got a few months ago possibly transferred to the other opposition parties: BJP & INC which helped them win & hurt the TRS.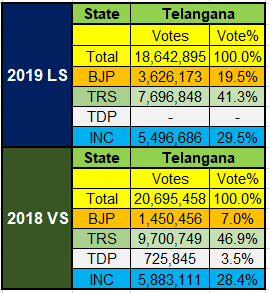 Andhra Pradesh:
YSRCP in 2014 did manage to win ~5% more votes than TDP in 2014. But what helped TDP come out on top back then was the alliance with BJP who got another 7.2% of the vote. The NDA alliance won 17/25 seats (TDP 15 BJP 2). TDP over the past couple of years left the NDA alliance & had a massive fallout with the BJP central government. TDP chose to fight the 2019 LS elections on its own. YSRCP banking on the anti-incumbency that built up against TDP increased its vote share to 49.1%. TDP vote share fascinatingly went down marginally only by less than 1% (from 40.5% in 2014 to 39.6% in 2019). But the double whammy of 3.7% increase for YSR & no ally partner sealed its fate. YSRCP romped home in a rout winning 22/25 seats while TDP could only win 3 seats. Both the major national parties were smashed to smithereens by the two regional parties & lost deposits on 25 seats each while only garnering ~1% vote share.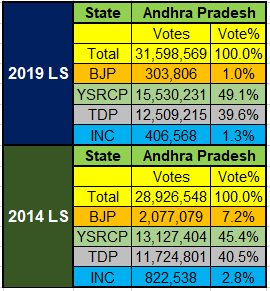 West Bengal:
West Bengal was one of the states where BJP was looking to make big inroads in 2019. BJP ended up winning 18 seats (a significant uptick from just 2 in 2014) while Mamata Banerjee led AITC won 22 seats. West Bengal over its history of past few decades used to be a bastion of the Left parties (led by CPIM). This stranglehold was finally broken by Mamata & AITC which won the 2011 assembly polls ending the 34 year rule of the Left in West Bengal. The high pitch & shrill campaign between BJP & AITC had made this a virtual two horse race pushing the Left & INC to the margins.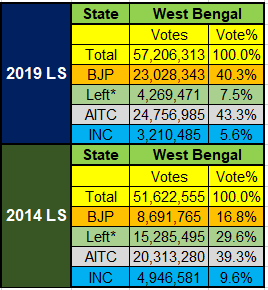 The results validate this with a complete collapse of the Left Parties from ~30% in 2014 to just 7.5% this time around. The decline of the Left has been so severe that it was able to save its deposit in just a single seat in the entire state of West Bengal (Jadavpur), an occurrence which would have been near impossible to even contemplate a decade ago. Even INC managed to lose ~4% from its small vote share of 2014. AITC remarkably managed to increase its vote share by 4% from an already high 39.3% to 43.3%. BJP which benefitted from a collapse of the Left more than doubled its vote share from just 16.8% last time around to 40.3% in 2019.
Odisha:
Odisha was another one of the eastern states where BJP was looking to gain seats to offset losses elsewhere. Naveen Patnaik led BJD had been in power uninterrupted for two decades & was facing some push from BJP. Like in many other states BJP was banking on anti-incumbency against BJD & more importantly the collapse of other opposition party INC in Odisha to make serious headway.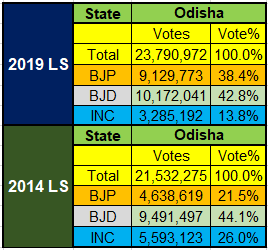 INC vote share % in 2019 almost halved vs 2014 which helped BJP to an extent to increase its vote share by 16.9%. BJD however mostly held its vote share intact (just a minor decrease of 1.3%) allowing them to win 12/21 seats in the Lok Sabha (vs just 8 for BJP & 1 for INC) & also a big majority in the assembly polls that were held simultaneously. To his credit Naveen Patnaik has now managed to hold off a Modi wave in two consecutive election cycles where many other regional & national parties have been swept away.
This concludes for now my three part series into the deep dive of the fascinating numbers thrown up by the 2019 Lok Sabha elections. As I have mentioned before we will continue to look at this groundbreaking election for not only months but years to come to understand it better.
P.S.: I want to thank Vivek Madani for helping to pull the data for all 542 constituencies individually from the ECI website.
Disclaimer: The opinions expressed within this article are the personal opinions of the author. MyIndMakers is not responsible for the accuracy, completeness, suitability, or validity of any information on this article. All information is provided on an as-is basis. The information, facts or opinions appearing in the article do not reflect the views of MyindMakers and it does not assume any responsibility or liability for the same.
Comments