A senior UP IAS officer caught on video propagating mass conversion to Islam
In news
05:24 PM, Sep 28, 2021
A video of a senior IAS (Indian Administrative Service) posted in Uttar Pradesh, Mohammed Iftikharuddin, is being circulated in which he is seen and heard discussing strategies to spread Islam to every home in India.
The date of this video is not yet clear. It also features a religious leader who is seen sitting beside the IAS officer. Iftikharuddin is currently serving as the Chairman of Uttar Pradesh State Road Transport Corporation.
In the video, Iftikharuddin is seen sitting with a group of men in which says that it is their ordained duty to spread Islam in the entire world and to each and every home. He says that Uttar Pradesh is strategic for this purpose. In another related video, IAS offcer is seen sitting on the ground when a Muslim speaker is delivering radical lessons at his official residence.
National Vice President of Math Mandir Coordination Committee Bhupesh Awasthi has filed a complaint with the state government against Iftikharuddin. He also submitted the copies of the video along with the compliant
Hindi daily Hindustan has reported that UP deputy chief minister Keshav Prasad Maurya has directed an inquiry into the matter.
Recently, the Uttar Pradesh's anti-terrorism squad busted a mass conversion module active from Delhi's Jamia Nagar with alleged spurious funding from abroad.
"The investigation of the viral video of IAS officer Mohd Iftikharuddin taken at Kanpur Commissioner's residence has been entrusted to ADCP East, Police Commissionerate Kanpur Nagar. It is being investigated whether the video is authentic and if there is any crime in it," Police Commissioner at Kanpur Nagar said in a tweet.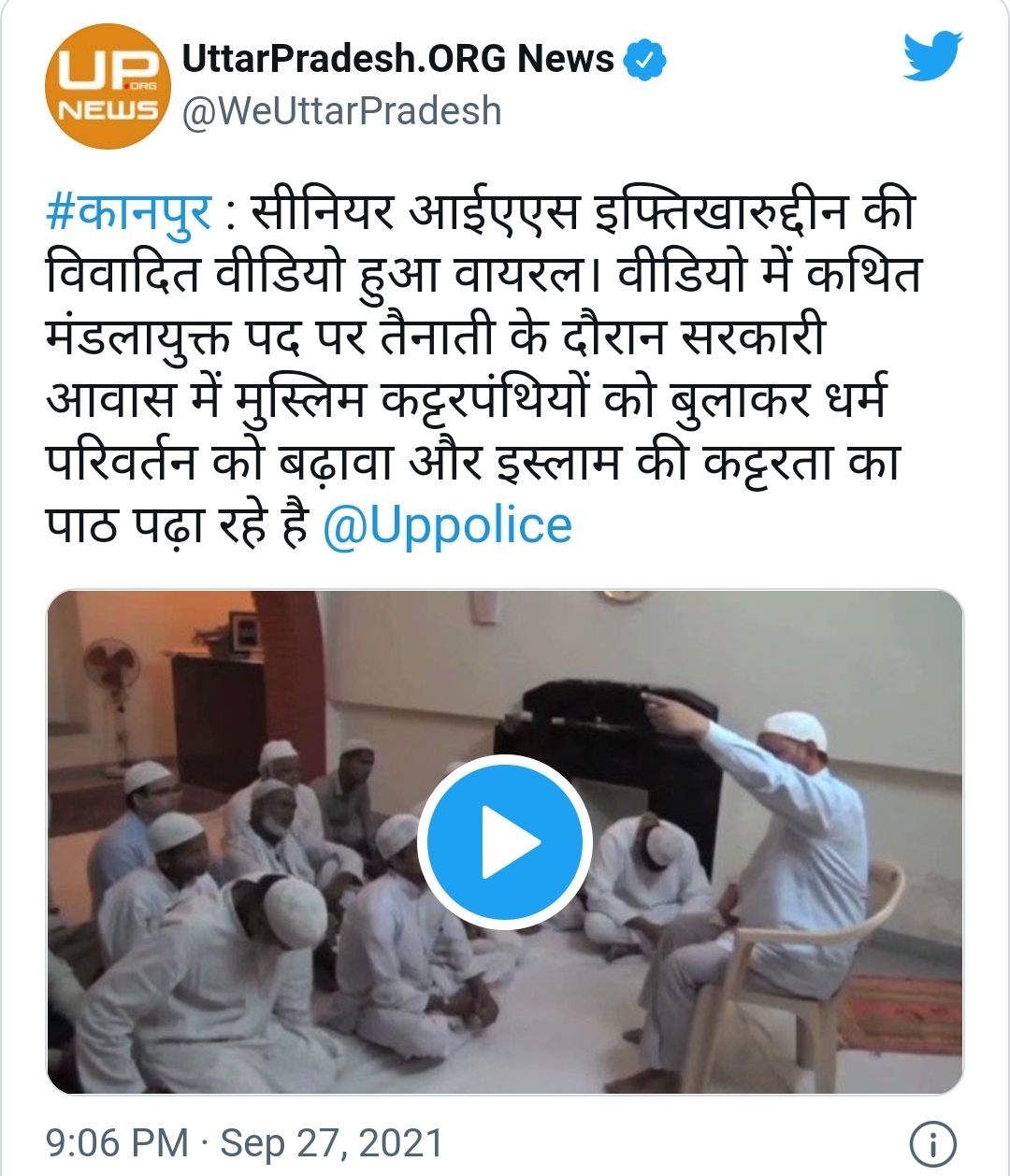 Image Courtesy: Swarajya
Comments